Feature Product: 101 Worry-Free Recipe Book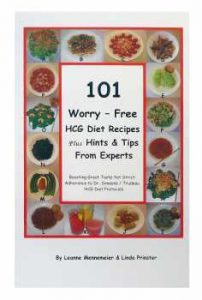 Want to make your diet more enjoyable? Try this 101 Worry-Free HCG Diet Recipe Book  designed especially for the very low calorie phase of the HCG Diet.  The recipes contained in this book show you innovative ways to use your allowed foods to create that meal you are craving. Got a sweet tooth? These recipes use different flavors of SweetLeaf® liquid stevia and powdered stevia as an all-natural sweetener.
Not only do these recipes deal with the boredom issues of the HCG Diet, but they save time for those who have a super busy schedule and/or limited cooking abilities. Choose from a variety of recipes such as beverages, soups, salads, beef/veal entrees, chicken entrees, fish and seafood entrees. It even includes recipes for salad dressings and seasoning mixes. Make desserts and beverages with your allowed fruit and flavored liquid stevia. Keep yourself hydrated with drink recipes like "Orange Slushy", "Orange Julius", "Strawberry Lemonade", "Iced Raspberry Coffee", "Frozen Cappuccino" and "Hot Chocolate".
More than just recipes, this book can help you to become more knowledgeable with "Most Common Errors During 500 Calorie Phase", "Time Saving Tips", "Plateau Breakers and Daily Loss Rate Maximizers", and "Best Advice…Be Intentional…A Philosophy of Sorts" all written by experts on the HCG Diet. You can also easily plan ahead with the "Shopping List" to help you gather the ingredients you'll need for these recipes and each recipe lists the protein and vegetable servings you'll use for that particular recipe so you can keep track of your allowed portions for the day.
Want a taste of what's in this recipe book? Here are a couple of the most popular recipes from the 101 Worry-Free HCG Diet Recipe Book:
Apple Cobbler
1 sliced apple
1/8 tsp cinnamon
1 packet stevia
Toss the above ingredients and arrange on a microwave safe plate.
Topping:
2 Classic Melba Toast rounds
Cinnamon
¼ packet stevia
Sprinkle apples with crumbled Melba Toast rounds, cinnamon and ¼ packet stevia.  Heat in microwave on high for 2 minutes.
Servings: 1 fruit, 1 starch
Fried Chicken
100 grams chicken breast
1 tbsp milk
Sea salt
Pepper
Totally crush breadstick in food processor or put in a plastic bag and crush with a rolling pin.  Dip chicken in milk and coat with breadstick crumbs.  Cook in a nonstick pan.  Season with salt and pepper.
Servings:  1 protein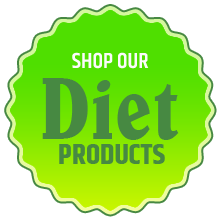 CUSTOMER REVIEW: Great for planning meals!
~Posted by Bernie
"Since I'm a bachelor, I'm not much on cooking, grocery shopping or planning meals. I flat out couldn't do the HCG Diet without this recipe book. It steps me right through all of my meals…straight to success!"