How to Prepare for the HCG Diet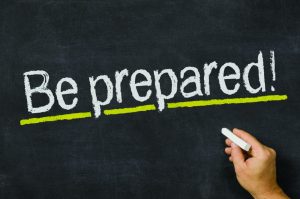 Making the decision to commit to doing the HCG Diet is a major decision in itself. The next decision that you have to make is doing it RIGHT. And doing the HCG Diet right can be pretty easy if you can prepare ahead of time. Here are some HCG tips to make sure that you have everything covered to give yourself the best chance of success on HCG.
Prepare Your HCG Protein Servings Ahead of Time
Nothing sounds worse than getting out a piece of raw meat, cutting off the fat, and trimming it to that 3.5 oz. when you get home from work. So, go to the store and buy your month's supply of HCG proteins (fish, beef, bison, scallops, shrimp, chicken, etc.) and then have yourself a defatting and trimming party!
Making sure you are wearing gloves, trim and weigh your meats and store them in freezer-proof baggies. Then, when it comes time to eat or pack your lunch while you're on the HCG Diet, you can just grab a baggie to defrost or let thaw throughout the day.
It may sound like a pain to do all of this at once, but I promise you that you will be so happy you did it later, especially on the night that you've had a rough day at work and suffered a little road rage on the way home. You know — those nights that make you want nothing more than a hamburger with extra cheese. Keep that temptation away by having your meat ready to defrost and throw on the George Foreman, pan, or however you choose to cook your meat.
Get a George Foreman (or Similar) Grill
This thing is a life-saver for me when I do the diet. It's so easy. Just plug it in to let it heat for a couple of minutes, then throw on your HCG food! Plus, you can usually fit your protein and vegetable on there. I LOVE beef with grilled Vidalia onions when I do the HCG Diet. Oh... it is so delicious!
Make Sure You Have the Right HCG Diet-Safe Substitute Personal Care Items
If you don't know it already, you cannot use any products with fats or oils in them on your skin during the HCG Diet, except baby oil or mineral oil. Dr. Simeons found that your body is so sensitive while HCG is in your system that the oils applied to your skin counts as calories. Not using oils or fats on the skin will allow maximum weight loss.
So, make sure you have oil-free make up to use. We recommend a powder (no liquid) while on Phase 2 of the HCG Diet. Also, if you have dry skin, you may want to get some baby oil or some of the Tiffalina's HCG Diet-Safe Lotion. Tiffalina products were designed specifically for the HCG Diet and provide a bit more relief than baby oil for dry skin.
Make As Much of Your HCG Diet Food As You Can Ahead of Time
Again, if it's all prepared and ready to go, you won't be as tempted to cheat! So, here are some more food tips:
Pack your salads in meal-size containers for the next week.
Make a big pot of tomato chili (tomatoes with spices with no sugars or starches in the ingredients), divide it into individual serving containers, throw in the freezer for later.
Make a huge batch of HCG Diet-safe chicken broth. Not only will this give you a bunch of chicken to portion out, you'll also have tons of broth to freeze for making yummy chicken soup or sautéing your vegetables.
Make some HCG Diet-safe salad dressings. Get some free HCG Diet dressing recipes like: Basil Vinaigrettte Dressing or Apple Cider Salad Dressing. If you don't want to waste time doing that, just order some: HERE.
Stock up on "To-Go" Containers or Baggies for HCG Food to Go
Besides my George Foreman, the items I used most on the HCG Diet were baggies (freezer-safe and regular) and lunch containers. Without these, I couldn't have been able to prepare so many items ahead of time and the temptation to cheat would have probably gotten me. So, do yourself a favor and STOCK UP!
So, now you have your starting list, 'how to get ready to do the HCG Diet'. If you get these items in place (especially in regard to your meals), you'll be on the right track for HCG Diet success!