Summary of the HCG Diet
(Part 5 of 5)
HCG Phase 3: Maintenance
After you complete the exit days, you're ready to start maintenance!
Maintenance is 6 weeks long, and it's broken down into two 3-week periods.
On the first 3 weeks, you mainly eat clean protein, vegetables, fruit, and fats. NO SUGARS AND NO STARCHES. Control your weight by daily weigh-ins and needed steak days*.
On the second 3 weeks of maintenance you will SLOWLY start adding healthy "sugars" and "starches" to your daily foods. Therefore, you will mainly be eating clean protein, vegetables, fruit, fats, and progressively add in healthy sugars (such as sweet fruits) and healthy starches (such as potatoes, brown rice, etc.)
Control your weight by daily weigh-ins and needed 'steak days'*.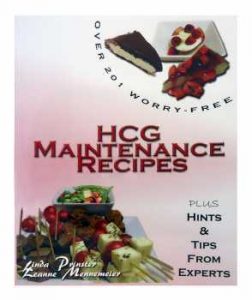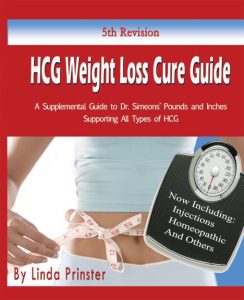 *For all of maintenance you will do a 'steak' day anytime your weight is 2.1 lbs (or more) over the last weight you were when you were taking the drops. A 'steak day' is a day when you eat nothing for breakfast or lunch, but drink plenty of fluids throughout the day. Then, in the evening have 1 large steak (8-18 oz) followed by an apple OR a raw tomato. The next morning you should be back to your last date weight (LDW).
The LDW is the weight that you are trying to train your body to maintain over the next six weeks. During the 6-week maintenance phase, losing or gaining more than 2 lbs is a no-no. By keeping your weight the same, you are training your body to lock-in your new, lower weight.
The Over 201 HCG Maintenance Recipes cookbook will give you delicious options while keeping you on track maintaining your weight loss. The HCG Weight Loss Cure Guide contains a full 1,000+ food list of foods that are allowed on Phase 3.
You're done! This is when you move on with your new, healthy lifestyle in your smaller pants.
HCG Phase 4: Getting on with Post HCG Diet Life!
This phase of the HCG Diet is called 'life stage', 'post HCG Diet Phase' 'Phase 4', or 'P4'. Continue eating normally while limiting and slowly adding in sugars and starches. This part of the HCG Diet is similar to Phase 3 except you shouldn't have to limit the amount of sugars and starches you have to eat as much because your body should be able to handle them better and better as the weeks move on into your healthier, skinnier life.
You should be craving healthier foods and a diet full of low-fat, lean-protein meals now that your hypothalamus and metabolism have been retrained and reset with the HCG Diet.
Don't forget... after finishing a round of the HCG Diet, take your 'after' photo and compare it side-by-side with your 'before' photo! To see some examples, look here.
What to eat on HCG Phase 4? 
While on Phase 4, you're not limited to certain foods that you can or cannot have. Basically, eat healthy foods and limit sugars and starches if needed. Continue to monitor your weight with morning weigh-ins to tell if you're eating too many calories, too many 'bad' foods, etc. Continue drinking at least 2 liters of water a day as it can help you maintain your new, lower weight and is good for over-all daily health.
How to avoid weight gain after the HCG Diet?
To control weight for the rest of your life, continue to weigh yourself daily. If you are up more than 2.1 lbs over your goal weight, you guessed it... do a 'steak day'.
Can I exercise after the HCG Diet?
While on Phase 4, you can introduce exercise (if you didn't already in Phase 3).
When can I do another round of HCG?
If you still have more weight to lose, and you want to complete another round of the HCG Diet... you can! You need to wait at least 6 weeks between rounds from the last day you took the HCG drops. The waiting periods between rounds are important to avoid becoming immune to the HCG.
Now that you've finished reading the full summary of the HCG Diet and all the HCG Diet phases you may still be trying to decide if the HCG Diet is the right diet for you. If you're still unsure, you can take a look at some of our amazing HCG Diet testimonials to see REAL people succeeding doing the HCG Diet... click here!
Click here to return to the General HCG Diet Information Page.