Phase 2 HCG Recipes: Grilled Orange Roughy with Sautéed Red Onions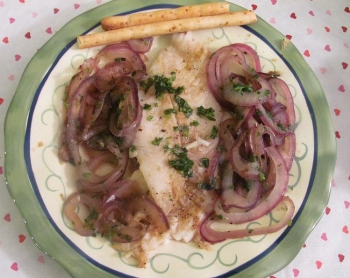 Claudia Mason shared this VLCD recipe with us on our DIY HCG Facebook page. She used Orange Roughy as her white fish of choice, but you can use Tilapia, Cod, Mahi Mahi, Flounder, Haddock, etc. (See the HCG Weight Loss Cure Guide by Linda Prinster or the Pocket Guide to the HCG Protocol by Linda Prinster and Tiffany Prinster for a complete list of allowed fish on Phase 2.) Also, if you have a George Foreman Grill, you can use it and skip the broth.
Ingredients:
100 g orange roughy (or other white fish)
salt
pepper
garlic
onion powder
tarragon (fresh, chopped tarragon is preferable)
1 medium red onion, sliced
2 tbsp HCG Diet-safe broth, divided (recipe on our website, here)
1 serving VLCD-approved fruit of choice
Instructions:
Season the fish with salt, pepper, garlic, onion powder, and tarragon.
Cook the fish in a pan with 1 tablespoon of broth.
In the same pan, sauté the onions, adding the remaining tablespoon of broth.
Sprinkle with a bit more tarragon and serve with your grissini breadstick and fruit.
Enjoy!