Go back to Jill's HCG Before and After Journey (Part 8 of 9).
Jill's HCG Diet Journey
(Part 9 of 9)
HCG Diet Maintenance – Days 26 and 27
This week is going great! I have been having such a good time having a few bites of carbs (bread, rice, etc.) at lunch and dinner and still managing to stay in my two-pound window! It's almost harder to stop after a few bites than it is to just not eat it at all, but at the same time I'm finding myself more able to appreciate how things taste, even if the experience is short-lived.
This weekend my husband and I are going to a new Italian restaurant. I hope I can keep in control around all the bread and pasta. I think as long as I don't order anything with noodles myself I should be fine. Dessert on the other hand...
HCG Maintenance – Days 28 through 31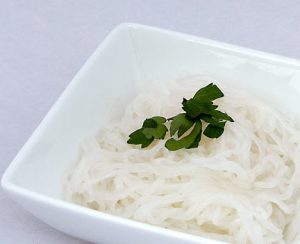 Only 11 more days left on HCG maintenance! Well, I'm sure I'll still have to watch the scale after that, but it's nice to know that the hardest part is almost over. This weekend was a little rough although it started out pretty good. I tried Shirataki noodles (aka Miracle Noodles – high fiber, low carb, zero calorie pasta substitute) and I didn't hate them! I'm actually really excited about having them in spaghetti Bolognese later this week. I also tried making waffles with Atkins low carb baking mix. They turned out a little dense, but I can see the potential for a lot of other things like Pizza crust? Definitely. Muffins? Why not? Bread to turn into croutons? Can't wait. But that ended my safe eating for the weekend.  My husband and I ended up doing a lot of eating out for fun after that and it's so much harder to make good choices at restaurants. I barely survived after the pasta and breadsticks at the Italian restaurant, and then on Sunday we went to a café for lunch. I ordered a sandwich but only ate half the bread which would have been fine but that same day I made a batch of raspberry-mango jam (my husband loves his PB and J's) and I just couldn't resist a few tastes because it turned out so amazing. So, I should be doing a steak day today but I had steak for dinner last night, so I'm just doing a high-protein day with little snacking and extra water. Please note: the HCG Weight Loss Cure Guide specifically says not to replace a HCG steak day with a HCG high-protein day, but I'm breaking the rules and doing it anyway. This method of getting back in range is NOT endorsed by DIY HCG. Plus, the joke will be on me if I don't get back down by my morning weigh-in tomorrow.
In any case, I was glad to get back to my weekday eating schedule. I've pretty much been having the same breakfast and lunch for the last 4 weeks, but I can't help it, my breakfast cups and cottage cheese are filling and taste good, and my chicken salad for lunch is just so creamy and crunchy and delicious that I haven't been able to eat anything else. Plus, thinking of other things takes a lot more energy and planning than I really want to take. So, my next goal is to work on getting sugars and carbs back into my diet or my body may never figure out how to deal with them. And that would be tragic.
HCG Diet Maintenance – Days 32 through 38
Wow, I really can't believe that I'm only a few days away from the HCG maintenance finish line! Last week I didn't do a very good job adding carbs and sugars in, but this weekend I really put myself to the test:
I ate a cupcake.
And it blew my mind! It's the most real sugar I've had in months and it was delicious. Also, for lunch, I had a quesadilla and it was by no means a low-carb wrap. Ooh, and then the next night at dinner we ordered this melty cheese thing that came with pita bread, and I totally had like 6 little triangles and still managed to be within range the next morning. So exciting. I think this week I'll be trying some oatmeal or actual quiche with crust for breakfast and making different kinds of wraps for lunch, like a peanut butter and banana wrap or a Hawaiian pizza wrap, or just a regular deli sandwich wrap. Also, tonight I totally plan on making some fat-free, sugar-free pudding…mmm, butterscotch.
HCG Maintenance – Day 39 through 42
I can't believe I'm finally through with HCG maintenance! The last few days I've been putting my body to the test to see what it can handle. I had a PB and J on whole wheat bread and I didn't gain! The other day I had a half an ear of corn with dinner and I didn't gain! I had a burger (ate both buns) and even had a few fries and I didn't gain! I ate PASTA and didn't gain…in fact I'm below my LDW! I just cannot believe how well my body has adjusted. I was getting to the point of maintenance where I wasn't sure if I would ever be able to eat carbs/starches like I used to, but my body has officially figured it out!
I am so excited to be starting a whole new chapter in my life with a much healthier outlook toward food and my body. Because of this experience I not only got to know how this crazy diet works, but in the process, I re-committed myself to my overall health and well-being. I even want to exercise. I reached my weight loss goal with the VLCD and made it through maintenance with a strong finish. I am fully dedicated to choosing whole grains, lots of protein, and those leafy greens, over cookies, fries, and white bread. Don't get me wrong, I'll still eat those bad foods on occasion, but I have a better sense of eating in moderation and its benefits.
So, I guess I'd like to finish off my last blog post with a few words of encouragement for anyone who might be reading this and is still on the fence about trying it. This diet, as much as we like to say that this diet is "so easy" for some people, like myself, it was actually really hard. The bright side is that the really hard part is also really short and you come out of it a whole different person…a thinner, healthier, happier person.  So just know, you've got nothing to lose except maybe some bad eating habits, a negative body image, and oh yeah, a bunch of FAT! I'm so happy with the results I got, and I know there are a lot of people out there who could really benefit from this diet. So, don't hesitate to contact us if you have questions or are ready to get started. Good luck!
Click to see some of the HCG products that Jill used throughout her HCG Before and After Journey...