Go back to Jill's HCG Before and After Journey (Part 7 of 9).
Jill's HCG Diet Journey
(Part 8 of 9)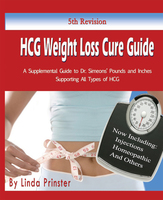 HCG Maintenance – Days 3, 4, and 5
The last few days have gone pretty well. I have mostly adjusted to this new way of eating, but I'm thinking I need to start keeping better track of what I'm eating. I'm sure I'm eating about the right number of calories, I'm just starting to worry that cumulatively I'm still eating too many sugars and carbs. The scale was kind on Monday and Tuesday, but then I was up this morning, so, now I'm only .6 lbs away from a steak day. I think I need to read that section in the red book (HCG Weight Loss Cure Guide) about what to eat when you think a steak day might be coming up. I think I'll wait to do anything drastic until after tomorrow's weigh-in. So, for today it's salad for lunch and more salad for dinner. Hopefully some extra roughage will help me get back on track.
HCG Diet Maintenance – Days 6 through 10
Wow, this month is flying by! On day 6 last week I was right on the cusp of needing to do a steak day, so I did a high protein day, tried not to snack, and drank a lot more water than I normally do and managed to drop about a pound and a half. I was really surprised on Saturday morning (day 8) to have dropped another .2 after eating dinner out on Friday. I thought for sure I would gain a bunch since the food was so rich (and I even chanced a bite of crème brulee!), but I made it through just fine. On Saturday, I ate smart and managed to drop down below my LDW on my Sunday weigh-in. Gotta love that. But I waivered a bit yesterday when I had to do some baking. I knew going into it that I wouldn't be able to eat what I was making, but a couple tastes here and there couldn't hurt, could they? Well, a little. I was back .2 over my LDW when I weighed in this morning, but I'm definitely still in a good spot to maintain through this week (barring any unforeseen temptations, that is). I'm feeling more and more confident every day with these new eating habits, although I'll be glad when I can start eating more carbs. They're just such great vehicles for other things…noodles-sauce, bread-meat and cheese, crust-pie…yum. Can't wait!
HCG Maintenance – Days 11 through 14
Things have been going great this week. I've been hanging in between a pound below my LDW and a pound and a half above. Right in the pocket. It was a little tricky with the Daylight Savings Time change just because I always wanted to eat later than I should. One night we didn't eat dinner until 8:15. Needless to say, I was up a pound and a half the next morning. But overall, I've felt pretty great. I still have cravings for things I can't have, but I know it won't be long until I can start adding more of those things back in... just one more week until the second half of maintenance!
On a separate note, after work today, my husband and I are going shopping for me and I'm actually excited about it! Skinny jeans, here I come! Wish me luck.
HCG Diet Maintenance – Days 15 through 20
I officially own skinny jeans… and I actually look good in them! The first store we went to I grabbed the first pair I saw in the size I was hoping I would be and they were perfect!  I also got a couple of tops and a cute springy/summery dress. In the last 10 years or so I've always been a medium or size 8, but in the few months before the diet, those mediums were looking more like smalls, and those size 8's became impossible to zip. But this shopping trip, in nearly every store, just about everything I picked up in my go-to sizes fit just right (not counting those items I picked up that wouldn't have looked good in any size… there are some weird trends out there these days, lol). It just felt good to try on clothes, look in the mirror and see a truer version of the person I feel like I should look like. I guess that's a weird way of saying I feel like the me on the outside is starting to match the me I feel like on the inside.
So, on day 16 I slid into those skinny jeans to go to my husband's coworker's house for a brew day (a day where a bunch of beer-lovers get together to make a batch of beer while trying each other's' homemade beers). I didn't really want to go, but my husband insisted, so I went. Talk about temptation! Between the beverages and the chili for lunch (and a touch of friendly peer pressure), I really had to exercise my self-control. The funny thing was that even though I had a few sips of beer and a tiny bowl of chili, I actually lost .6 lbs when I weighed in the next day.
During the week (days 17-20), my days were again pretty smooth. I've been eating my breakfast cups and cottage cheese with berry sauce every morning and chicken salad for lunch every day and it's really made things easy. Not only does it all taste good, but it practically guarantees that no matter what I have for dinner (within reason) I'll still be within my range the next morning. Although, I am wondering how I'll be able to mix up my meals and start incorporating new things once I'm into the second 3 weeks of maintenance (aka next week!). I'll have to do some brainstorming.
Buy HCG Maintenance Recipes Cookbook Now!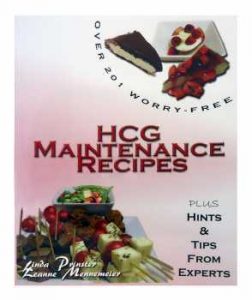 HCG Maintenance – Days 21 through 25
This was a tough weekend! Friday afternoon (day 21) I hopped on an airplane to attend a conference with Tiffany and some of the other DIY employees. The conference was great and we came out of it with a lot of really exciting ideas, but eating out lunch and dinner four days straight was a challenge, especially watching other people order burgers, pizza, and other things that come with bread and potatoes. The worst was not knowing if the choices I was making were having a negative effect. I thought about bringing my scale with me, but I would have had to take the next size up in luggage, so I went without, and this morning when I weighed in I was so excited to find out that I did NOT have to do a steak day! Success! And even better news, I'm now officially into week 4 so I can start eating more of those carbs and sugars I've been so good about avoiding up until now. I don't really have a plan yet for how I'm going to start doing this, but I will definitely be referring to the Over 201 Worry-Free HCG Maintenance Recipes Book for guidance. There are a bunch of great ideas under the "2nd Three Weeks Recipes for HCG Maintenance" section that can help ease a few of those new foods into my diet.
I think another good step for me now that I'm past the first 3 weeks is to start working out again. It would be good to get back into a routine of stretching, cardio, and toning. Both my husband and I have been off our exercise routines since we moved into our house across town from where we had our gym membership, so this last weekend while I was out of town he did the work of checking out a couple places and signed us up.
I think it will be easier to work out feeling like I'm starting from a better place with my self-image. In the past, I have had a hard time working out when I feel fat and ugly. It's like, what's the point. But now, I'm just improving on an already good thing. A lot easier to wrap my head and motivation around.
Click to read Jill's HCG Before and After Journey (Part 9 of 9).