Go back to Jill's HCG Before and After Journey (Part 5 of 9).
Jill's HCG Diet Journey
(Part 6 of 9)
HCG VLCD – Days 20, 21, and 22
This weekend started off on the right foot, but then wavered. On Saturday, I was down .7 but then Sunday I didn't lose anything and this morning I didn't lose anything either! I wasn't as upset as if I had gained, but I was definitely a little down about it. I decided for sure that my last day of drops will be Tuesday, so I was really hoping I would keep losing until then.  A stall is not exactly what I had in mind for my last 3 days on the drops, so I guess I'll have to consult with my co-workers to see what the best plan of action is for the next couple of days to really try and maximize my losses on the HCG Diet.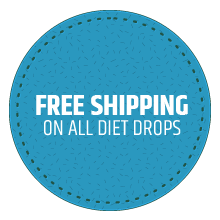 In any case, as my time on the HCG VLCD (very low calorie diet) is running out, I am getting so excited about my Saturday morning HCG maintenance breakfast. I'm definitely going to be having a big plate of scrambled eggs and bacon… or maybe ham and scram (scrambled eggs with ham and sometimes onion and cheese)… or maybe I could make a quiche with bacon and some veggies… in any case, the choices are more than I've had in a while, so I'll happily eat any of them. I've also been day dreaming about maintenance lunches, like a big cob salad with ham and turkey and eggs and tomatoes and real dressing! I've even thought about snacks like deviled eggs, cottage cheese with canned peaches (which I can myself, so they have no added sugar), and apples with peanut butter. Plus, dinners of stews, casseroles, and stir-fries. Oh, and DESSERT! Real dessert! I already bought a big bag of Splenda for baking. I know it's not that great for you, but I'm getting a little tired of stevia and it's only until I'm through the first 3 weeks of HCG maintenance.
Could you tell I was punishing myself for not losing on Sunday by watching the Food Network all day?
Last day with HCG drops! I was only down .1 today, again, I was really hoping for a strong finish, but I guess I'll have to just be happy and grateful for my losses up 'til now. I'm just so ready to move on to maintenance. Technically, according to Dr. Simeons, the weight I am today should be my official weight to maintain, but I'm holding out for another loss tomorrow morning, in which case I'll be using that number. Speaking of numbers, I'll be reporting my final losses tomorrow along with my HCG before and after pictures! Stay tuned!
HCG Exit Day 1 - Off HCG Drops
As promised today is the big reveal…final stats and HCG before and after pictures! All in all, I lost 16.2 lbs and a whopping 28.5 inches! I was not all that happy to be ending the diet in the middle of a stall, but I guess that's just the way things go sometimes. I really wanted to drop a couple more pounds, but I just couldn't stand the HCG VLCD anymore (as I'm sure you can tell by my last couple of posts, lol). But after seeing my HCG before and after pictures myself, I really shouldn't complain! I was a good girl and didn't look at all the before pictures until this morning after taking the after pictures and I was so surprised!
Jill's HCG Before and After Pictures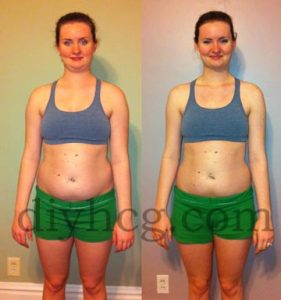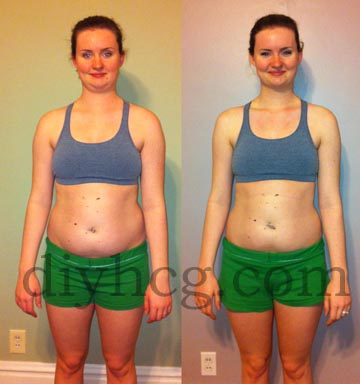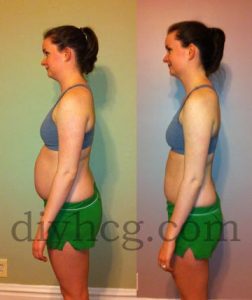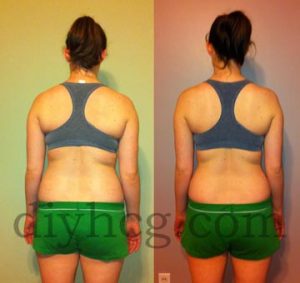 Things I am really happy about: my arms, waist, and face! Things I would like to see change more in the future: my love handles/back/hiney (aka butt), but I think some yoga mixed with some cardio will do the trick on these. I can't believe I'm saying this, but I'm actually excited to start working out again! I really haven't since before my wedding last summer and am feeling ready to get going! (Although I think I'll be waiting until the second three weeks of HCG P3 to add this in.)
Keep reading for my maintenance days (and struggles!)
Click to read Jill's HCG Before and After Journey (Part 7 of 9).