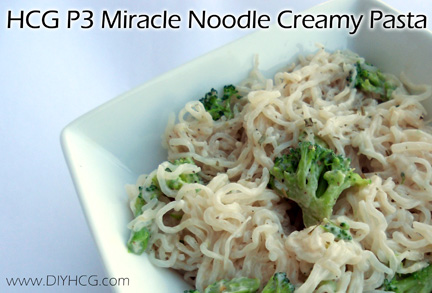 HCG Phase 3 Recipe: Miracle Noodle Creamy Pasta
This recipe is safe for the 1st 3 weeks of HCG Diet Phase 3 and beyond.
This is a delicious recipe using miracle noodles instead of pasta. Serve this side dish alongside a decent serving of protein, such as grilled chicken breast. Eating enough protein is very important during HCG maintenance. We hope you like it!
Ingredients
1 (8-9 ounce) bag of miracle noodles* 

1 cup Greek yogurt, plain & unsweetened 

¼ cup Parmesan cheese

⅛ cup pesto sauce** 

1 cup broccoli

1 tsp garlic powder

1 tsp onion powder

⅛ tsp black pepper

⅛ tsp sea salt

water (as needed)
Instructions
Prepare the miracle noodles, set aside.

Chop the broccoli into bite-sized pieces (about ¼-inch) and place in a large saucepan.

Pour enough water into the saucepan to cover the bottom completely.

Cover and steam the broccoli on high for 3-6 minutes.

Once the broccoli has reached your desired crunchiness-level, remove from heat, place in a strainer to drain excess water, and set aside to cool.

Add the yogurt, Parmesan cheese, pesto sauce, and seasonings to the saucepan.

Heat the mixture on the lowest possible setting for about 2-3 minutes, stirring frequently. Do not over-heat.

If the sauce mixture is too thick, add water 1 teaspoon at a time until it reaches your desired consistency.

Add the broccoli and the prepared miracle noodles to the sauce mixture and stir well.

Remove from heat and t

ransfer to a serving dish.

Sprinkle with a little more Parmesan cheese, and black pepper, if desired.

Serve and enjoy! 
Recipe Notes
This recipe makes 2 servings. Cover and store left-overs in the fridge.
*If you are unfamiliar with miracle noodles, they are a calorie-free type of noodle that is also wheat-free, gluten-free, fat-free, sugar-free and nearly carbohydrate-free making them perfect for Phase 3 of the HCG Diet. Each brand is a little different, so follow the instructions located on your specific brand of miracle noodles or to watch of video of how we prepare our brand of miracle noodles click here. Find the brand of miracle noodles we recommend here.
**If you don't have any pre-made or store-bought pesto sauce on hand... throw some fresh basil and a drizzle of extra virgin olive oil into a blender or food processor to make a quick replacement.
Go back to HCG Diet Phase 3 Recipes for Maintenance.