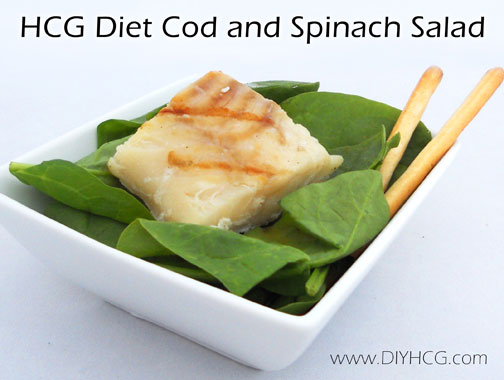 HCG Diet Phase 2 Recipe: Lemon Cod and Spinach Salad
This recipe is safe for Phase 2 of the HCG Diet and counts as 1 protein serving and 1 vegetable serving, 1 carb serving, and part (or all) of your daily allotted lemon juice. You are allowed the juice of one lemon per day. If you have already reached that amount of lemon juice, just omit from the recipe.
This 'fresh' meal will bring a smile to your face. It has a perfect combination of flaky cod, crisp spinach, and lemony flavor. Try it today!
Ingredients
100 grams (3.5 ounces) white cod

¼ cup Homemade Chicken Broth*

1 tbsp fresh-squeezed lemon juice**

⅛ tsp sea salt

⅛ tsp black pepper

2 cups raw baby spinach

1 grissini breadstick***

2 tbsp Simple Girl salad dressing**** (optional)
Instructions
Make the Homemade Chicken Broth (see the recipe here). You may substitute water for the chicken broth. 

Add the chicken broth and lemon juice to a small non-stick sauce pan over medium heat.

Season the cod with salt and pepper.

Once the broth mixture is warmed, add the fish to the pan, cover, and cook until the fish has become opaque and flaky.

Remove from heat, set aside to cool.

Wash and dry the baby spinach before use, especially if you do not buy organic.

Add the baby spinach to a serving bowl and top with the cooled cod.

Pour broth lemon mixture over the top of the salad.

Serve the salad with a 

grissini breadstick or break it into several small pieces and sprinkle over the salad to add some crunch. Enjoy!
Recipe Notes
You may substitute your chosen type of HCG Diet safe salad dressing for the lemon broth. For this recipe, we recommend Simple Girl Sweet Mustard Salad Dressing.
*It is not recommended to use store-bought chicken stock while on the HCG Diet because it usually contains preservatives. Do not use store-bought chicken broth or bouillon cubes as they usually contain sugar and other ingredients that could slow or stall your weight loss. 
**It is important to used freshly squeezed lemon juice over the store-bought lemon juice because it usually contains preservatives that could slow or stall your weight loss. Always buy fresh lemons and squeeze your own lemon juice while on the HCG Diet.
***We carry three flavors of grissini breadsticks imported from Italy that are approved for the HCG Diet. They come in traditional flavor, garlic flavor, and multi-grain. 
****Simple Girl dressings were specifically formulated for the HCG Diet. They are all natural and sweetened with diet safe stevia. Be careful when choosing a replacement. Most store-bought dressings contain sugar, preservatives, or other ingredients that could stall your weight loss. Analyze the ingredients before purchase. Avoid oil, starches, sugar, hard preservatives, chemicals, and words ending in -ose, -tol, or -dextrin.