HCG Medical Concerns HCG Side Effects
Learn about the medication issues and common side effects of the HCG Diet...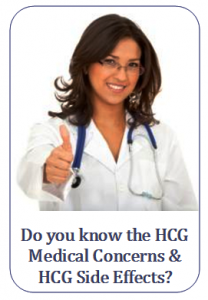 HCG Diet Medication Issues:
Medications that may affect weight loss on the HCG Diet:
Steroids
Hormone Replacement Therapy Medications (HRT)
Certain seizure medications
Medications with side effects of water retention
Medication with side effects of weight gain
If you are on any of these medications, please speak with your physician before staring the HCG Diet. Your medications may need to be monitored for medication adjustments while losing weight. Through your physician's guidance, you may be able to postpone these medications until HCG Maintenance / HCG P3.
HCG Diet Medical Conditions:
Some medical conditions need to be monitored on the HCG Diet, such as:
Diabetes
High blood pressure
Thyroid conditions
If you have any of these (or any other) medical conditions, you should probably be monitored by your physician while participating in Phase 2 of the HCG Diet. As explained here in the HCG Positive Health Effects of the HCG Diet section, these conditions may improve, and any treatment that goes along with your condition may need to be adjusted by your physician.
Some medical conditions may be a contraindication on the HCG Diet and should be thoroughly discussed with your physician. These conditions and others are explored in Dr. Simeons' HCG manuscript and are recommended to be shown to your physician when deciding if the HCG Diet is right for you.
Do you know the most common side effects of the HCG Diet? Most people on the HCG Diet experience only positive health effects. Read about the HCG Diet Side Effects below...
HCG Diet Side Effects:
Detox Headaches

A headache may appear during the first few days of Phase 2.
A slight headache during the first week is common as your body is detoxing from all the sugar and chemicals you used to eat and drink.
You can take aspirin in a pill (non gel-cap) form to help.

Constipation

Although it is normal to have less frequent bowel movements on the HCG Diet (because you're taking in much less food than normal), some may have discomfort due to this irregularity.
If constipated on the HCG Diet, try Smooth Move Tea (regular flavor). See Smooth Move Tea here.

Changes in your Menstrual Cycle

For Females: HCG is a hormone and may cause changes in your menstrual cycle.
We see changes of all types: Starting earlier, starting later, having a cycle for the first time in a few years or having break through bleeding even when FAR into menopause.
If you ever have significant changes or concerning changes in your menstrual cycle while on the HCG Diet, you may want to seek the advice of a physician.

Muscle Fatigue / Muscle Cramping

Muscle Cramping may happen on HCG, usually leg cramps.
They are less common with DIY HCG brand of HCG drops because our drops contain a special blend of cell salts. Cell salts are known to help alleviate leg cramps.
If you are using another brand of HCG drops, don't worry, you can take homeopathic cell salts separately. See Homeopathic Cell Salts here.

 Thinning Hair

VERY RARE with Homeopathic HCG Drops. Mostly reported with Medical HCG Hormone Injections.
Slight hair thinning that lasts for about 2 weeks and then fills back in after the diet.
Again, this is quite rare with our drops, but quite common among participants using injections.

Low Energy

This is a rare side effect of the HCG Diet, as many people actually have high energy on HCG.
But, if low energy is an issue for you... you can use Vitamin B-12 to raise energy levels.
You should not take oral B-12 pills or supplements as that usually have a sugar coating. Therefore, we recommend homeopathic B-12 drops.
If you're still not sure if the HCG Diet is right for you... you may want to view our HCG Before and After Pictures, Written and Video Testimonials. You can be inspired by real people who've done the HCG Diet with great success!
See Positive Health Effects on DIYHCG...
Also, for more information, be sure to check out these great videos!
The HCG Diet Protocol Introduction and History
The HCG Diet Protocol HCG Diet Summary
The HCG Diet Protocol How HCG Works for Weight Loss