Sweet Drops: Best And Worst Sweeteners for the HCG Diet
Using the wrong sweeteners on the HCG Diet is a major issue that will keep you from losing weight on HCG.
Here is what you need to know about what sweeteners you can have and which sweeteners to stay away from while on Phase 2 of the HCG Diet.
Best HCG Diet Sweet Drops
#1.) The winner is... All-Natural Stevia! 
Stevia is the best sweetener for the DIY HCG Diet, because it's all-natural! Stevia is derived from a rebania leaf and takes very little processing to get a great tasting product. Stevia has been around for a very long time in South America, and now it's becoming more and more commonly found in the U.S.
BEWARE! NOT ALL STEVIAS ARE THE SAME when it comes to the strict guidelines of the HCG Diet. Some brands of stevia are mixed with other sweeteners that can slow or stall your HCG weight loss.
You should only use pure stevia while on the HCG Diet. Since stevia has become a new healthy food craze a lot of products have been added to the market that are called 'stevia', but truly they are a stevia mix... containing some stevia mixes with another type of sweetener such as dextrose, fructose, xylitol,  erythritol, maltodextrin, etc. DO NOT USE THESE TYPES OF STEVIA!
Only use pure stevia! The brand of stevia we use for the HCG Diet, is Wisdom Natural Brands or SweetLeaf Stevia. We choose to carry this brand of stevia because it has proven to allow unhindered HCG weight loss and tastes amazing! Plus, it comes in a wide variety of different liquid stevia flavors like lemon, chocolate, vanilla, hazelnut, root beer, and more! You can see them all here.
#2.) Saccharin (Brand Name Sweet 'n' Low) 
The only other sweetener option for the HCG Diet is saccharin. Saccharin is an artificial sweetener, that is currently under scrutiny for the chemicals it is made from. Saccharin may be linked to several health problems, even cancer. For this reason, we do not recommend using saccharin on the HCG Diet because it may not be best for your overall health in the long run. Therefore, you should simply use stevia. We sell both powdered and liquid-flavored stevia for your convenience. See more here.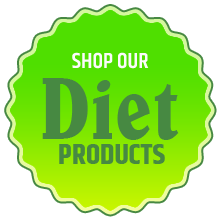 Worst HCG Diet Drops
Now for the sweeteners that are NOT ALLOWED on the HCG Diet... Most sweeteners are not allowed on the HCG Diet. Here is a list of sweeteners you CANNOT have while on the HCG Diet if you wish to have maximum HCG weight loss.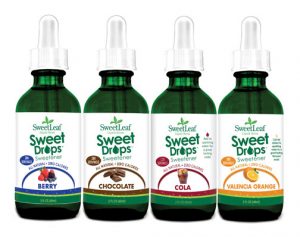 Splenda
Equal
Purvia
Truvia
Z-Sweet
Stevia in the Raw
Great Value Stevia
Anything containing dextrose, maltodextrin, erythritol, fructose, or xylitol.
Anything with ingredients ending in -ose, -tol, -dextrin or contain any sugar alcohols.
We hope this article helped you learn more about what types of sweeteners are allowed on the HCG Diet. We offer stevia in packets and flavored stevia drops, buy some today!
Check out our 101 Worry-Free HCG Diet Recipes book for ideas on how to use stevia to make drinks with your allowed fruit, make mock soda, and more!
Click here to return to the General HCG Diet Information Page. 
Have a 'sweet' day!