Five Ways to Beat the Post-Holiday Blues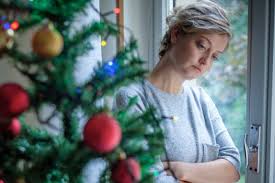 The holidays are a joyous time for many, filled with celebrations, festive decorations and delicious food. However, some people experience a feeling of sadness when the holiday season ends. Here are some helpful tips to beat the post-holiday blues.
1. Practice healthy eating habits.
The holiday season's array of Christmas cookies, Thanksgiving turkey, and other delectable treats can challenge even the most conscientious eaters. If you've over-indulged on rich food during the holidays and are now experiencing unwanted effects, such as weight gain, don't feel guilty or disappointed. Instead, try to get back to eating a healthy and balanced diet as soon as possible. Cook simple and nourishing meals, limit the portions that you eat, and stock your refrigerator with fruits and vegetables for easy snacking.
2. Exercise.
Along with healthy eating, exercising is something you can do for your body that will also improve your spirits. Don't let dreary winter weather deter you from exercising; go to the gym instead. If you can't afford a gym membership, borrow a yoga or Pilates video from your local library, or just dance around the house to your favorite music. Exercise with a friend, or download a fitness app to help you stay motivated and on track with your goals.
3. Get enough sleep.
Countless studies have linked depression and increased irritability with insufficient sleep. If you've run yourself ragged hosting family events and shuffling between parties during the holiday season, the early-January lull is a perfect time to catch up on sleep. Sleep experts consider seven to eight hours of shut-eye per night to be ideal. If you can't get a full night's sleep, take a nap during the day. Dozing off for as little as 15 minutes can help you to feel refreshed.
4. Take some time off.
If you've powered through the holiday season, with all of its attendant social occasions and family obligations, breathe a sigh of relief. You deserve some "me" time. Take a weekend trip to a spa, or just go on a short outing to a fun destination close to home. Alternatively, you could simply stay home and spend a few hours unwinding with a hot bath. Or, pass an evening on the couch binge-watching your favorite television show. Give yourself the time and space to do whatever helps you to relax and feel happy.
5. Keep your New Year's resolution.
Whatever you've resolved to do this year, chances are that it's something healthy or beneficial, so don't put it off. Whether you want to lose weight, have more quality time with your family, or learn how to better manage stress, it's never too soon to begin. Spending time to achieve a new goal will help to fill the void that you might feel after the festivities have finished.
The holiday season is packed with fun and cheer but you don't have to feel sad when it ends. Working toward a constructive goal, practicing healthy habits or taking time to relax will help to lift your spirits after the holidays and throughout the entire year.