The Benefits of Volunteering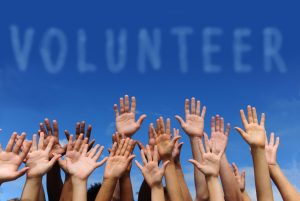 The idea of volunteering may make you cringe as you think about how busy your life is, but there are so many benefits to volunteering and remember the old adage, "the more you give, the more you get!" Also, volunteering for something doesn't have to require a lot of time or entail a long-term commitment. There is such an array of opportunities for volunteer work; the key is finding the one that is right for you.
Volunteering is good for YOU!
Not only does volunteering offer crucial help to people, animals, the community or other worthwhile causes, but the benefits can be significant for you, the volunteer, providing both physical and mental health benefits. Research has shown that helping others fosters feelings of pleasure, happiness, self-confidence and a sense of purpose. These feelings, in turn, can help to ward off stress, anger, anxiety and depression.
Volunteering connects you to other people.
You'll be exposed to people who share some interests in common with you, live in the same neighborhood or have children in the same school. Volunteering is a great way to make new friends and forge meaningful relationships as you strive for a common goal. Working with people can be an opportune setting for initiating conversation and getting to know them. At the culmination of the activity, participants can enjoy the feelings of satisfaction and accomplishment together.
Volunteering may help to further your career.
Although volunteer work is unpaid, you may learn valuable skills such as organization, teamwork, task management, project planning, event planning, etc. These skills are useful in many occupations and can help you in the personal areas of your life as well. Volunteering also gives you the chance to try out a new profession without making a long-term commitment. For example, if you're interested in becoming a veterinarian or vet's assistant, you could volunteer at an animal shelter or zoo first to stick your toe in the water before deciding to jump in. Your volunteer work may also introduce you to internships or professional groups and people that could help you to advance your career.
Volunteer work can be fun, energizing and an escape from your daily routine.
The door is wide open. You can explore interests that you've not had the chance to experience, for instance working in a community garden when you've lived in the city your entire life and didn't have the space to plant a garden. You could also take the opportunity to indulge in something you have a passion for, but haven't made the time in your schedule to enjoy for a long while, like teaching Special Olympics' participants how to play a sport that you love.
This article may be written from a slightly selfish perspective highlighting the benefits for the person doing the volunteer work, but it's simply meant to remind the reader that when we give of ourselves, our time, and talents, everybody wins! Ask not what your community can do for you but what you can do for your community!