Using Pinterest for Meal Planning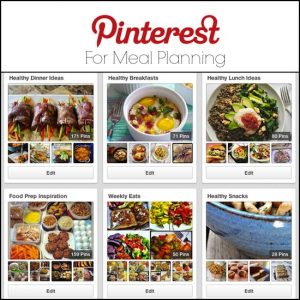 As you explore the Internet, you've probably noticed a red cursive "P" or a "Pin It" button on many of the images you come across. Once you're signed up on Pinterest, all you have to do is click the button, and the image — along with a link to the article — will be pinned to a virtual bulletin board that you create.
If you're not on Pinterest, you're missing out. With this platform, you can create a whole bunch of boards for all of your diverse interests. Love decorating? Start a "Home Decor" board! Always finding awesome ideas for keeping the kids busy? Start a "Kids" board! Looking for killer workouts that'll net you that beach bod? Start a "Workouts" board! The sky is the limit, and you can create as many boards as you want. As you find interesting articles and ideas online, you can pin them to your boards with the click of a button.
Pinterest users interact with one another through liking, commenting on, and "re-pinning" each other's collections. You'll inevitably find users who are like-minded, and you can add their pins to your board.
Using Pinterest for Meal Planning
One practical way to use Pinterest is for meal planning, and the whole process can be entirely paperless — no more shuffling through piles of loose recipes or trying to remember what cookbook a certain recipe is in. The process is simple once you're signed up and ready to start pinning.
Step One: Create Recipe Category Boards
You can organize your Pinterest recipe collection however you want. For example. You can have a board for quick 'n' easy recipes, healthy recipes, and Crock Pot recipes. You can organize by meat type, such as pork, beef, or chicken meals, or by course, such as breakfast, lunch, or dinner. Pinterest can work however your mind works to organize the recipes you stumble upon online.
Step Two: Pin Recipes
The majority of recipes you'll find online through magazines, blogs, and recipe sites will have a Pin It button. When you come across a recipe that sounds good, just click the button. A pop-up box will let you choose what board to pin it to, or you can create a new board for it.
Step Three: Create a Menu Board
When you're ready to sit down and plan your weekly menu, start a new board. Go through your recipe collection, and re-pin the ones you want to use for the week to your new board. You can label the menu plan board so that you can find it and use it later as well. For example, if you have a busy week ahead and plan to make only easy recipes, start a "Busy Week Menu Plan" board. If you want to create a menu board for one special, elaborate meal, such as "Easter" or "Thanksgiving," you can plan the meal and keep all of the recipes you'll use together in one place.
Step Four: Make Your Grocery List
Use a memo app on your phone to create your grocery list for the week. That way, you'll be sure to have it with you while you shop, and you can cross off items on your list as you go, which ensures you won't forget anything.
Step Five: Manage Your Recipes
As you create a new menu board each week, you can delete the past week's board, or you can develop a group of weekly menu boards and simply rotate through them each week to eliminate weekly meal planning altogether — all you have to do is choose the menu board for the week and make your grocery list. Maintain your menu boards by deleting recipes you didn't like or making notes about any changes you made to the recipe.
Meal planning doesn't have to be a pain in the patootie if you use Pinterest. You'll always know exactly where your favorite recipes are, and you won't have any trouble finding them. When you're ready to cook, pull up your menu board, click on the recipe you're making, and voila! There it is, ready to go.