Tasty Tips for the Maintenance Phase and Other Diets like the Ketogenic Diet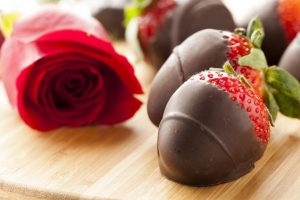 This article had tasty diet tips for people on the HCG Diet and similar diets like the Ketogenic Diet. The maintenance phase (and maintaining your weight in general) can be challenging due to the restrictions concerning carbohydrates, or starches and sugars. During this three-week period, you will forego all sugars and starches and focus on eating mostly whole grains, vegetables and fruits, and lean proteins. You don't want to restrict calories during maintenance, because during this phase, you're setting a new weight set point and getting your body used to maintaining its normal weight while consuming the calories you need for optimum health and wellbeing.
Particularly for those with a sweet tooth or a penchant for bread, the maintenance phase can be difficult, although it's probably not as challenging as the 500-calorie diet phase. Still, with a little creativity, you can have your cake and eat it too.
Chocolate & Strawberries
Indulge your sweet tooth with a delicious concoction that'll satisfy any chocolate craving.
Ingredients
1 tbsp virgin coconut oil
1½ tbsp of cocoa powder
liquid or powdered stevia, to taste
strawberries
almond, vanilla or peppermint extract, optional
Instructions
Heat 1 tbsp of virgin coconut oil over low heat.
Add 1½ tbsp of cocoa powder and stir to combine.
Add stevia until the flavor is to your liking.
Dip strawberries into the mixture and lay them on a cookie sheet covered with parchment paper.
Refrigerate or freeze.
To spice things up a bit, consider adding chopped nuts or flavor extracts like almond, vanilla, or peppermint to the chocolate.
Bread-Crusted Chicken Breast
Ingredients
1-part almond meal
1-part Parmesan cheese
chicken breasts
Your favorite herbs or spices
finely-chopped walnuts, peanuts, or almonds, optional
Instructions
For a tasty breaded chicken dish, omit the bread and instead, combine one-part almond meal and one-part Parmesan cheese.
Dip chicken breasts in the mixture to coat, and fry or bake as usual.
If you want to get creative, add your favorite herbs and spices to the mix, or add some finely-chopped walnuts, peanuts, or almonds.
Crustless Pumpkin Pie
For a quick and delicious pumpkin pie that you can have on the table in fifteen minutes, combine the following ingredients in a microwave-safe pie plate:
Ingredients
1¾ cup canned pumpkin (canned pumpkin is a caution food for the 1st 3 weeks)
2 eggs
1 cup fat-free milk
2 tsp cinnamon
½ tsp ginger
½ tsp nutmeg
1 cup no-calorie sweetener that measures like sugar
Instructions
Beat with a whisk, and microwave on high, uncovered, for 8 to 10 minutes, checking halfway through cooking.
The pie is done when the outside edges begin to pull away from the edge of the pie plate.
Remove the pie from the microwave and let it sit for five minutes to finish cooking.
Cut into pieces and serve warm or cold.
This recipe has just 62 calories per serving, along with 7 grams of carbohydrates, 4.3 grams of sugar, one gram of fat, and three grams of fiber.
Apple Pancakes
A sweet little pick-me-up, these apple pancakes are a healthy treat.
Ingredients
1 small apple, finely-chopped
¼ tsp cinnamon
3 tbsp just add water pancake mix
sugar-free syrup
Instructions
Toss one finely-chopped small apple with ¼ tsp cinnamon and two packets of powdered stevia.
Measure 3 tbsp of just-add-water pancake mix and add enough water to create the right consistency. Don't worry — using this small amount of pancake mix won't constitute a starch.
Stir in the apple mixture, and fry it up like a regular pancake.
Serve it with a little drizzle of sugar-free syrup.