Using Hygiene & Beauty Products During the Diet Days of the Protocol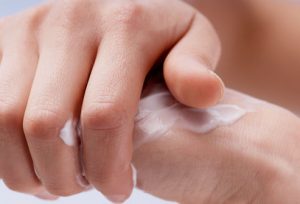 One peculiarity of the HCG Protocol is that your body will be extremely sensitive to even tiny increases in nutritional intake. When you have HCG in your system, your skin absorbs the products you put on it, and they end up in your body just as if you had eaten them, according to Dr. Simeons. It's critical during the low-calorie diet phase of the protocol to be ever mindful of not only what you put in your body, but also what you put on it.
Sunscreen, Ointments, and Other Products to Avoid
If you're putting sunscreen on yourself, it should be oil-free.  If you're putting sunscreen on a child or someone else, you should wear gloves. The same goes for antibiotic and antihistamine ointments, body lotion, and other personal care products in the form of ointments, creams, oils, and fats. If you will be outdoors for any length of time, use oil-free sunscreen or plan to wear lightweight long sleeves and a hat to protect yourself from the sun rather than using an oil-based sunscreen. If you injure yourself and need to apply medication in an ointment form, use the ointment sparingly. A little goes a long way, and most people over-apply these types of medicines.
Cosmetics
When you read Pounds & Inches: A New Approach to Obesity, you'll note that Dr. Simeons cautions against any cosmetics other than powder, lipstick, and eyebrow pencil. Keep in mind that modern cosmetics are very different today.
Mascara used to be made with Vaseline in Dr. Simeon's day, but not in modern day, so mascara is normally O.K. to use. As far as foundation, from past experience, we recommend using a powder foundation and avoiding liquid foundation even if it is oil-free.
Lipsticks and lip glosses today often times have moisturizers in them, which are usually made from fats and oils and so you are better off choosing a cheap lip stick that doesn't contain moisturizers.  In general, try to avoid lip balms and moisturizing lotions as much as possible. If you must use them, for example if your lips are cracked and you need to apply some medicated cream like Blistex®, do so sparingly, and note the use on your weight chart.
Toothpaste, Shampoo, and Conditioner
Most people on the HCG Diet continue to use their regular toothpaste, shampoo, and conditioner without trouble. However, since toothpaste typically contains sorbitol, a sugar alcohol that's forbidden during this phase of the protocol, it's important to avoid swallowing even a little bit. Be sure to rinse thoroughly after brushing your teeth. If you want to err on the safe side, try switching to Tom's of Maine® toothpaste, available in most drugstores, or use an old-fashioned concoction of baking soda and water combined into a thick paste.
Your shampoo and conditioner don't necessarily need to be replaced as long as you use them sparingly and avoid leaving them on your scalp for very long. If you want to play it safe, Tiffalina's brand of personal care items were designed specifically for the HCG Diet plan and is available online.
When in Doubt, Write it Down
If you're in doubt about a particular product, use it very sparingly, and record your use on your weight chart or journal so that if your weight loss slows, you'll know what the possible offender might be.