VLCD Carbs – What's Melba Toast?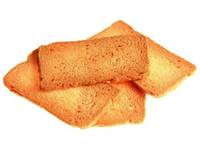 Have you heard of melba toast? Does anyone else picture a small, gray haired lady holding a piece of toast out to you while her glasses slip down her nose? No? Must just be me! Well, if you haven't heard of it, and you're about to begin the HCG Diet, now is the time to learn what it is and what purpose it serves. Melba toast is a small, crisp and thinly sliced piece of toasted bread. Think in terms of a flat crouton.
The VLCD phase of the HCG Diet — or very low calorie diet phase — incorporates melba toast as a carb option for both lunch and dinner. During this HCG Diet phase, you'll be consuming very few calories from a specific set of foods. To ensure the best results, it's important that you follow the instructions and the food list to ensure weight loss. No, you can't even sneak in a variation, trust me!
We believe Dr. Simeon's incorporated crunchy melba toast and grissini breadsticks into the diet so that dieters would have something to satisfy the body's need to chew. This may seem like a tease as you are preparing to begin the HCG Diet, but take it from the HCG pros, this melba toast/snack will be the cause for your happy dance each day. Perhaps that's an exaggeration, but at the very least, it's worth a couple of hip shakes followed by, "I get my melba toast! I get my melba toast!" in a sing-song voice.
If you're looking to add some flavor to your melba, there are lots of flavors of melba available, but be careful since some melba toast flavors* will contain more sugar than others. The body is extremely sensitive to sugar when on HCG. I repeat, the body is EXTREMELY sensitive to sugar when on HCG.
We carry 3 flavors of Grissini breadsticks on our website: Multigrain Grissini Breadsticks, Garlic Grissini Breadsticks and Plain Grissini Breadsticks.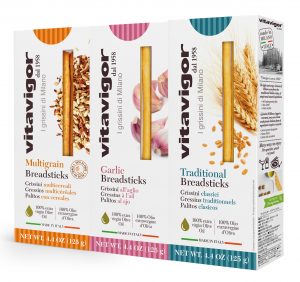 Le Pain des fleurs Ancient Grain Crispbread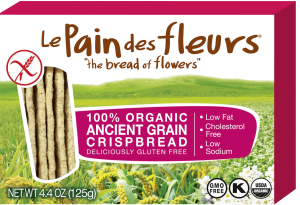 The Le Pain des fleurs "the bread of flowers" Ancient Grain Crispbread is 100% Organic, and is also an acceptable gluten free substitute for the grissini breadsticks/melba toast allowed on the diet. A single slice is the proper serving and can be eaten two times per day if the dieter has eliminated breadsticks/melba toast. Each box has approximately 28 slices, which would last 14 days on the diet. This lightly salted gluten free crispbread has a satisfying taste and is light and crunchy. This product is also 100% Organic, Gluten Free, Sugar Free, GMO Free, Cholestrol Free, Wheat Free, Dairy Free, Egg Free, Yeast Free, Low Fat, and Low Sodium.
*The varieties that comply with Dr. Simeons' guidelines are rye, sesame, and whole grain. Also, melba comes in "toast" and "snacks." Melba "toast" is a rectangle and you are allowed only one at each meal, while Melba "snacks" are small and round and you are allowed two during lunch and dinner. Do you want something to munch on with a cup of hot coffee? Eliminate the melba serving from one of your meals and have it as a snack adding a little powdered stevia and cinnamon sprinkled on top. It's the next best thing to a cookie while on the HCG Diet. You don't have to believe me now, just wait 'til you're there and you'll know what I'm talkin' about!