Tipping the Scale – How to Maintain Your New HCG Weight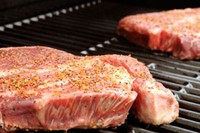 After the HCG Diet, in order to maintain your new weight, any morning that you weigh more than 2.1 lbs. over your last HCG date weight (the weight you were on the last day you took your HCG diet drops), you should perform a Steak Day, which normally lowers a person's weight by 2-5 lbs. Another option is to nip it in the bud before a Steak Day is mandatory. If you see yourself getting close to needing a Steak Day, do a High Protein Day to bring your weight down, usually 1-2 lbs. Don't kid yourself though – if you need to do a steak day, do a steak day! Don't slip into the bad habit of not keeping your weight completely in check. Read on for instructions on how to perform a Steak Day and  High Protein Day as you attempt to get within 2 lbs. of your last HCG date weight.
Here's what to do for a Steak Day as you attempt to get within 2 lbs of your last HCG date weight:
In this day, all you do is drink as much coffee, tea, and water as you like throughout the day, then have a huge steak for dinner (8-12 oz.) with a raw apple or raw tomato. Note:  If you don't eat meat/steak, you can substitute one large serving of protein, i.e., chicken or fish, for the steak and keep the rest of the day the same – but the results may be less.
Here's what to do for a high-protein day to attempt to avoid a Steak Day:
It's simple really; eat only protein and very low carb vegetables, i.e., lettuce with low carb dressing, for the day. A high-protein day is similar to the Atkins diet in that you stay away from all carbs, even natural ones in fruit and most vegetables, but it is only for a day to knock your weight down a pound or two. So, again, eat plenty of protein and stay away from carbohydrates, starches, and sugars – this includes avoiding dairy, sweet fruit and nuts for the day.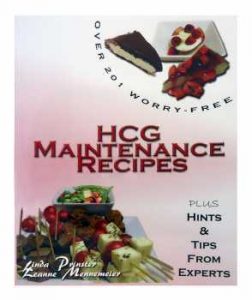 If you're a bit leery about moving on to the "rest of your life", maybe this recipe book can help. The Over 201 Worry-Free HCG Maintenance Recipes Book is a compilation of delicious recipes to help you maintain your weight and keep those pounds off for life. Some of the recipes that will help your cravings for pasta include the "Meatless Spaghetti", "Miracle Chicken Penne," and "Spaghetti with Meatballs". If you love pizza, try the "Chicken and Bacon Pizza", "Mexican Pizza" and "Taco Pizza" recipes. Included also are some delectable chicken recipes like "Chicken Fettuccini", "Fried Chicken" and "Chicken with Stir-Fry Vegetables". Is your mouth watering yet? This book lists recipes for breakfasts, appetizers, beverages, breads & crusts, lunches, side dishes, dinners, salads, soups, snacks and desserts. If you like to make your own dressings, sauces and toppings; there are recipes for those too! Order your own copy today and stay fit for life.