Throw Some Shrimp on the Bar-B: Barbecuing on the HCG Diet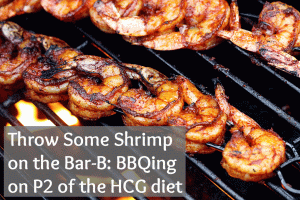 When the weather starts warming up and you're planning that pre-bikini round of the HCG Diet, remember that the outdoor grill can add so much flavor to your meals. You can literally grill almost everything on the VLCD.
Here are a few tips to get the most out of your grill on the HCG Diet:
Marinate your 3.5 oz. of protein ahead of time. Simple Girl salad dressings, Southern Blend BBQ sauce and Carolina Kick BBQ sauce are great options or make your own HCG Diet-Safe marinade by combining a little vinegar, water, diet-safe stevia, and spices like onion powder, garlic powder, cumin and chili powder (just make sure there are no sugars or oils listed in the ingredients of your spices).
When you put your HCG protein on the grill, make sure you don't touch it for at least a minute so it doesn't stick to the grate.
For veggies that shouldn't go directly on the grate, wrap them up in foil and throw them on the grill with your protein. It's quick and cleanup is a breeze!
Use wood chips or a plank to add a more-smoky flavor to your grilled HCG Diet foods.
Who says you must grill every day? If you portion your protein out ahead of time, you can grill a bunch at once, saving time and energy. Plus, this way you can have delicious grilled foods that are safe on the VLCD/Phase 2 of the HCG Diet when you're away from home and the grill.
Also... remember non-stick cooking sprays are not  allowed on Phase 2.
Need some ideas? We have tons of HCG Phase 2 Recipes to get your ideas flowing!