How to Live Healthy on a Budget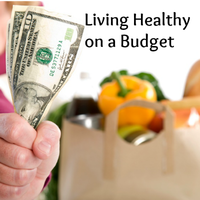 We all want to live a more healthy life, but good gosh it can be so expensive! Organic foods cost more than non-organic produce. Gym memberships and exercise classes can take a big bite out of your monthly budget. AND all-natural products might be a healthier option, but they too are pricier. Fortunately, several money-saving strategies can help you live a healthier life without busting your budget.
Healthy Eating Savings Tips
When you decide to reduce the number of artificial and processed ingredients that you eat, you quickly realize that clean eating isn't cheap. However, you can eat healthy and stay within your grocery budget with smart strategies. First, be flexible in the items you buy, focusing on produce and meats that are on sale. Designing your weekly menu plan around produce that is discounted can greatly cut down on your grocery bill. Likewise, you can stock up on your favorite meats when they are on sale, individually package them, and freeze them for later eating.
These stock-up grocery shopping strategies can help you buy healthy foods when they're at the lowest price, which can have a significant cost savings. You can also seek out grocery stores that offer generic organic produce, which comes at a lower price than its name-brand counterparts.
Another way to embrace a healthy lifestyle and save money at the same time is to cut down on eating out. Driving through fast-food spots and ordering large portions at restaurants can derail a diet. Plus, the costs of eating out can add up quickly. Thus, cooking at home allows you to control what you eat and saves you money at the same time. Score!
Exercise Savings Tips
Exercise is an important part of your healthy lifestyle. Opting for free or low-cost exercise options can make your healthy living more affordable. Take advantage of nature and exercise for free outdoors when you can. A brisk walk through the neighborhood, a jog through a local park or a hike on a nearby trail can help you burn calories and get in shape — all at no cost. Plus being in nature around trees and fresh air can greatly increase your mood and overall feeling of well-being.
If you want to exercise indoors, avoid paying for services you won't use. For instance, if the city's "best" gym boasts a pool and group exercise classes but all you need is a treadmill and free weights, consider opting for a more basic gym that has just the equipment you need. Or just get a home gym or a couple of weights and train at your house with workout DVDs or apps like 7 Minute Workout or Daily Burn.
Green Living Savings Tips
A greener home can help you achieve your dreams of a healthier lifestyle. Rather than purchasing costly natural home cleaners, you can use a simple blend of vinegar and water to clean your countertops.
You can also start a small garden in your backyard, which can cut down on grocery costs again. Yay! Whether you have a green thumb or tend to kill everything that lives in your house (even cacti), you can learn to grow herbs and vegetables at home rather than purchasing them at your local store.
Conclusion
Healthy living and sticking to your budget are both possible, thanks to these health-conscious and money-saving tips. Smart shopping, budget-friendly exercising, and creative green living ideas can help you become a more healthful person and stay on budget at the same time.
What's your best money-saving natural eating or cleaning tip?