How to do an HCG Diet Apple Day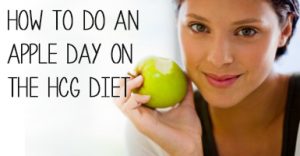 If you've been at the exact  same weight on HCG Phase 2 for three or more days in a row, it may be time to do an stall breaker. There are two different options for stall breakers while on the HCG Diet: an 'Apple Day' or 'Mini Steak Day'.
Don't worry, we'll explain them both and you can decide what you think will work best for you!
HCG Diet 'Apple Day' Explanation:
When you wake up in the morning and find that you're at your third day at the same exact weight on the HCG Diet, don't eat anything until lunch. Starting at lunch, you can eat up to 6 medium apples up through midnight of that same day. Drink minimal water all day, only if you're thirsty or needed to take medications. The next day, you should see some movement on the scale.
Some people find the apple day to be hard since you limit water intake. Apples are a natural diuretic and the whole idea of an apple day is to rid your body of un-needed water and help you get your body back into weight loss mode. The type of apples do not matter, some people prefer to buy organic but it's not required. You can also eat the apples raw or cooked.
Our favorite way to 'switch up' the boring apple routine is to chop the apple into small 1/2 inch pieces, then add to a non-stick skillet with a little water, cover with lid and steam until apples are soft. Then add powdered stevia and ground cinnamon to taste, stir, remove from heat, and enjoy!
This method is the recommended stall breaking method in Dr. Simeons' manuscript.
HCG 'Mini Steak Day'* Explanation:
After weighing in at a stall, go ahead and drink as much coffee, tea, and water as you like all day, skip lunch, then eat a 3.5 g serving of beef sirloin or beef filet steak with a raw apple or a raw tomato. Again, you should definitely see the scale drop the next day.
Remember to drink a lot of water while on a 'Mini Steak Day' (unlike restricting water on an 'Apple Day').
*Please note: This method of breaking a plateau is not part of Dr. Simeons' manuscript, but was discovered by Linda Prinster. You can read about it in the HCG Weight Loss Cure Guide. It was found to be equally as successful in breaking a stall as an 'Apple Day'.
Remember...
Stall breaker days should only be done if you have not lost any weight or have gained weight for 3 or more days IN A ROW. Stall breakers days are not recommended for slow weight loss or to help speed up weight loss.
It is not recommended to do more than one stall breaker day in a row, if your stall breaker day does not work for some reason (which is rare) you need to eat the normal HCG VLCD for one day in between doing another stall breaker day.
If you find yourself frequently stalling while on HCG Phase 2 you may need to look at what you're doing to see if you're doing something wrong to cause stalls. The most common reasons for stalls are using unapproved spice mixtures, using the wrong brands of stevia (avoid stevia blends and words end ing -ose, -tol, or -dextrin), using lotions or other hygiene products with oils and fats.
We wish you luck in breaking your stall!