How can I avoid intimidation when going to a group exercise class?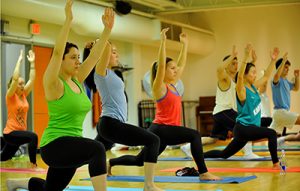 After the birth of my 3rd child, I decided it was time to get back in shape by joining a step aerobics class at the local fitness center. I went in ready to change my figure, step-in-hand. The instructor seemed nice, young, and very energetic. The music started and I very quickly realized not only was I out of shape, but extremely uncoordinated; while the class was stepping up, I was stepping down, and vice versa. After the dreadful 45 minute session, which seemed like an eternity, I felt embarrassed and defeated. Somehow though, I did not give up, but I did change a few things. I got there the following week a little early, found a nice spot in the back of the class, and went at a pace that suited me. Although I was still awkward, I felt less intimidated. Eventually I got the hang of it, sort-of, and finished the class. The truth of the matter is, no one is even paying attention to anyone else. Most people are concerned with their moves and their workout.
Here are a few more ideas to help avoid intimidation:
What kind of classes do you think YOU would like? — smaller more individualized, larger so you can blend into the woodwork, or perhaps classes that are only male or only female? What are your goals? — to lose weight, tone/firm, gain muscle mass, overall health, or perhaps the social aspect of being around others who are also trying to improve?
What setting do you prefer? Visit a variety of fitness centers; it is only going to work if you are in a comfortable environment. Remember, you are the customer and the gym you choose should reflect what you are looking for. This is one of the biggest, most competitive industries in the U.S. There is something for everyone!
Start small... what kind of activity do you prefer — dancing, aerobics, running, cycling, weights? In most fitness centers, these classes are readily available and offer different levels of expertise, so if you are a beginner or haven't been to the gym for a long time, no need to worry! You may want to start in the beginner section and move up rather than start at an intermediate level and not be able to keep up. Don't set yourself up for discouragement as this may cause you to give up and quit exercising altogether.
There are always new things on the horizon. A newer trend in health and fitness hitting main street America right now is boutique gyms. They typically resemble small shops or stores and offer a specific activity that focuses on one thing like aerobics, cycling, dance, etc. Usually there is no contract or monthly fee; you only pay a one-time charge for the class.
Stay within your budget — this will help ensure a positive feeling about the whole thing.
Also important, but not often considered…be sure the classes are run by qualified instructors so you will have a positive experience.
Just remember — there is something for everyone. Search until you find what is right!
How do you deal with gym-anxiety?