HCG Success Stories: Rebecca's HCG Before and After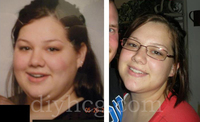 Here is a great success story from one of our DIY HCG Diet customers, Rebecca…So inspiring!
Total weight loss of 82 pounds in 3 rounds on the HCG Diet! As you can see from the pictures; she experienced a dramatic change in the look of her face because of weight loss in her cheeks, chin, and neck.
Good job Rebecca, you look beautiful!
Want more success stories? Read what others have said about the DIY HCG Diet below...
"Dear Tiffany, I just wanted to thank you for being so quick to ship my order of HCG Detox sublingual products to me. I received my order in record time. The cost was reasonable and after three weeks of following the HCG Diet Protocol, I am happy to report that I have lost approx. 16 lbs!!! I am so happy! I have also spread the word on other HCG Diet websites about you and your product, plus I have been able to answer some of the questions that you did for me. I really appreciate how quickly you have answered all my questions; same day! That's unheard of these days. Great product, outstanding service! Anyway, thank you so much. I look forward to continued success in my quest to lose weight!"   ~Barbara
"I was skeptical about the homeopathic HCG and how it works; but I can say after my first round of using homeopathic HCG; my results speak for themselves! I've lost over 25 pounds and 25 inches. It helps to be able to purchase from a reputable source...with super-fast shipping and awesome customer service!"   ~Dede K.
"I'm doing great! Lost 20 lbs and went down two pant sizes with HCG!"   ~Victoria H.
"I am just beginning my HCG program and am only 5 days in... I am excited about seeing the scale register a loss every day, and it helps me keep motivated. The HCG Weight Loss Cure Guide has been so helpful in preparing and knowing what to do to be successful, and avoid common pitfalls; and the 101 Worry-Free HCG Diet Recipes cookbook is great to help me create a variety of appetizing meals despite the protocols food restrictions."   ~Jalene H.
"I'm great. So far I'm on day 14 and have lost 11 lbs. I had already lost 45 pounds and have about 25 to go. Though I lost a bunch of weight before; I wanted it to be permanent. I was also interested in this because I wanted to lose the last 30 lbs off the right places. I can say it is doing that for sure! I lost 2 1/2 inches off my stomach and upper thighs each and that was only my first measurement. I will measure again tomorrow. I was never smaller than size 12-14 jeans, and yesterday I squeezed into a size 8! It should be loose by the time I'm done and maybe I will be able to get away with a 6. THANK YOU!"   ~Marie
View the rest of our Before and After Stories (including Before and After Pictures) HERE!