Feature Product: Valencia Orange Stevia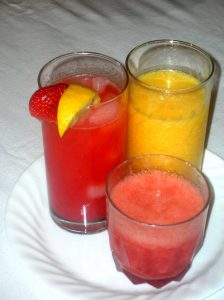 Imagine the tang of orange soda pop without the calories, or the sugar rush... now you're imagining all-natural Valencia Orange Stevia sweetener! Add orange stevia to plain carbonated water to make an "orange soda" or use this all-natural, zero-calorie stevia sweetener to add a healthy sweetness to your water and tea, or get creative with sugar-free recipes and healthy smoothies.
Use this all-natural stevia sweetener to replace artificial sweeteners and high-calorie sugar in food and beverages. Plus, unlike many other all-natural sweeteners on the health food market, stevia will NOT spike your blood sugar.
For creative ideas on how to use stevia, try the "Strawberry Orange Smoothie", "Orange Slushy" and "Orange Julius" recipes using Valencia Orange stevia from our 101 Worry-Free HCG Diet Recipe cookbook.
According to Wisdom Natural Brands; Sweetleaf All-Natural Stevia offers the following health benefits:
Best tasting, highest-quality, natural stevia
No added chemicals and extracted using only heat and purified water
All natural
Zero calories
Zero glycemic index
Zero carbohydrates
Safe for diabetics
Great for baking and cooking; unlike chemical sweeteners
Kosher certified
No saccharin; aspartame; refined sugar; maltodextrin; fructose; or artificial sweeteners of any kind!