6 Beauty Hacks Using a Lemon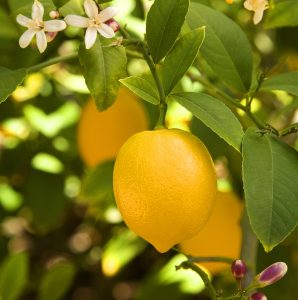 While you may see lemon as primarily a tangy ingredient to use in your recipes, many beauty companies see it differently. Lemon has powerful properties that function in a variety of ways to help strengthen and beautify. Rather than using chemical-based manufactured products that include a touch of lemon, it's a good idea to apply the pure, fresh and natural juice of a lemon from your kitchen. Once you try these great beauty hacks with lemons, you'll understand that this citrus fruit doesn't just belong in your kitchen.
When your shoes make your feet blister
Sometimes, if you want to wear fashionable new shoes, the price to pay is damaged feet. Blisters and cuts on your heels and toes can be the way your feet protest.
Women often try over-the-counter products such as Neosporin, but find that they don't help. Rather than throw away your new shoes, you should throw away the medicine, and try a beauty hack with a lemon. Try squeezing straight lemon juice on your cuts and blisters. It'll sting greatly for a minute; you need to take it and let it do its work. It's an effective antibacterial, and quickly takes care of all blisters. It's a great way to take care of any kind of rash, or even acne and blackheads.
Make your nails prettier
Lemon juice can be a great way to make your nails stronger, shinier, and brighter. All you need to do is to mix a teaspoonful of olive oil with a few drops of lemon juice, smear it all over your fingers and nails, and let it soak for several minutes. With this kind of treatment at least once a week, you'll have nails that always look like something from a nail polish ad.
Forget $20 highlighting products by Clairol and L'Oreal - try lemon
Lemon has citric acid, a natural bleaching agent. If you want beautiful, natural-looking streaks that are better than anything that chemical products can do, you need to put lemon in your hair. The mild almost-not-there streaking will make you look amazing. Just squeeze lemon juice all over your hair, and then go out in the sun for a day. When you come back, you'll have great highlights.
Lose weight much faster with lemon
Models and actresses love their lemonade diet for an important reason — it's a powerful way to help with your weight-loss effort. The pectin in lemons can help tone down appetite, and slow down the rate at which the body absorbs sugar. A lemon drink made of lemon juice, cayenne pepper and honey in a sipper bottle can be the best way to make sure that you get all the benefits of lemon all day.
Never mind Brilliant HD and Crest 3D - use lemon to whiten your teeth
Chemical teeth whitening kits achieve their results with caustic substances and leave behind a troublesome after-effect — sensitive teeth. You can do much better by going natural. Use a mixture of lemon juice and baking soda, and rub it on your teeth with your finger. After 30 seconds, brush your teeth, and rinse. When you do it a couple of times, you will have fresh, white teeth and no sensitivity, at all.
If you can't find your Dove Lemongrass or Fa Caribbean Lemon deodorant
Lemon is huge with the deodorant industry — nearly every brand has a lemon-scented variety. It's popular for a simple reason — lemon is one of the best possible ways to kill odor-causing bacteria. If you can't find your deodorant, find some lemon juice.