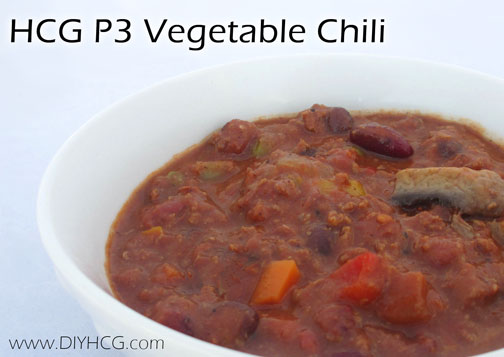 HCG Diet Phase 3 Recipe: Vegetable Chili
This recipe is safe for the first 3 weeks of maintenance, assuming you use no-sugar added tomato sauce. This is a perfect make-ahead recipe for work lunches or busy nights.
Warm up your soup pots for this super yummy HCG Phase 3 Vegetable Chili recipe which is packed with healthy veggies!
Ingredients
16 oz lean ground beef (optional)

1 tbsp extra virgin olive oil

½ white onion

1 bell pepper (green, red, orange or yellow)

2 large carrots

1 tbsp fresh garlic, minced

3 tbsp red chili powder

½ tsp cumin

1 tsp course sea salt

1 tsp freshly-cracked black pepper

1 (14.5 ounce) can fired roasted tomatoes (or any other type of chili-style tomatoes)

1 (14.5 ounce) can plain, no sugar added tomato sauce

1 can chili beans, undrained

½ cup mushrooms
Instructions
Peel and chop the onion into ½-inch pieces.

Split, remove seeds, and chop the bell pepper into ½-inch pieces.

Peel and chop the carrots into ¼-inch pieces.

Peel and mince fresh garlic (You may use store-bought minced garlic for HCG Phase 3.)

Chop the mushroom and set aside (The mushrooms are added last.)

Place a medium-size non-stick skillet on the stove over medium-high heat, and drizzle with olive oil.

Once the skillet is warm, add ground beef, onion, bell pepper, carrots, and garlic.

Use a spatula to continuously break the lean ground beef into smaller pieces.

Place the pot on the stove over medium-high heat.

Add the undrained beans, fire-roasted tomatoes, tomato sauce, and spices.

Stir well and bring to a boil.

Once the mixture has reached boiling, cover with lid and reduce heat to low.

Let cook for about 35-45 minutes, stirring occasionally.

Continue cooking for about 6-7 minutes or until all the meat is thoroughly cooked and the vegetables are slightly softened.

Transfer the cooked meat and veggie to a large pot.

Add the mushrooms to the pot. Stir well.

Cover and allow to heat for another 15 minutes or until the mushrooms are soft.

Remove from heat, let cool slightly, and enjoy. 
Recipe Notes
Omit ground beef for Vegetarian Vegetable Chili.
Feel free to top with a little shredded cheese or a dollop of Greek yogurt for added creaminess.
This recipe makes approximately 4 servings. Store any leftovers in containers with lids and place in the fridge.