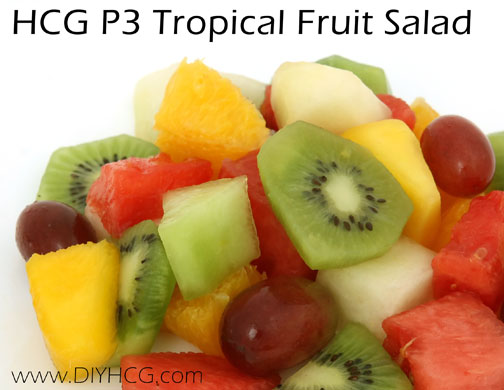 HCG Diet Phase 3 Recipe: Tropical Fruit Salad
This recipe may seem okay for the 1st 3 weeks of HCG maintenance, but it is not because of the sweeter fruits such as watermelon, grapes, and pineapple. Because of the high sugar content, the sweeter fruits are only allowed in the 2nd 3 weeks of HCG maintenance. 
This fresh, healthy fruit salad is perfect for summer!  You can make-and-take this recipe to a party or event without anyone even knowing it's a lower-carb "diet" recipe.
Ingredients
1 kiwi fruit

½ cup grapes

¼ cup pineapple

¼ cup honeydew melon

¼ cup watermelon (seedless is preferred)

1 small apple (any variety)

1-2 packets powdered stevia

1 tbsp all-natural orange juice*
Instructions
To start making this recipe, you'll need a sharp knife and a cutting board.

Peel skin off the kiwi, slice into ¼-inch slices, add to a large bowl.

Slice grape in half (if desired), add to bowl. 

Peel, core, and chop the pineapple into 1-inch pieces, add to bowl.

Slice, remove rind and seeds of honeydew melon, chop into 1-inch pieces, add to bowl.

Slice, remove rind and seeds of watermelon, chop into 1-inch pieces, add to bowl. 

P

eel, remove the core, and dice the apple into ½-inch pieces, add to bowl.

S

prinkle with the stevia packet(s) while stirring together.

Slowly pour the orange juice over the mixture and stir again.

Cover with lid (or clear plastic wrap) and place in the fridge for at least 1 hour to let the fruit combine and become juicy.*

Remove from fridge and enjoy! 
Recipe Notes
This recipe makes 4 servings. To make this recipe for lunches, simply divide the recipe into small, individual storage containers with lids, cover, and place in fridge until ready to eat.
*Orange juice that is all-natural should not contain any added sugars. If you are not patient enough to wait for the fruit to settle in the refrigerator, just omit the orange juice from the recipe.
Go back to HCG Diet Phase 3 Recipes for Maintenance.