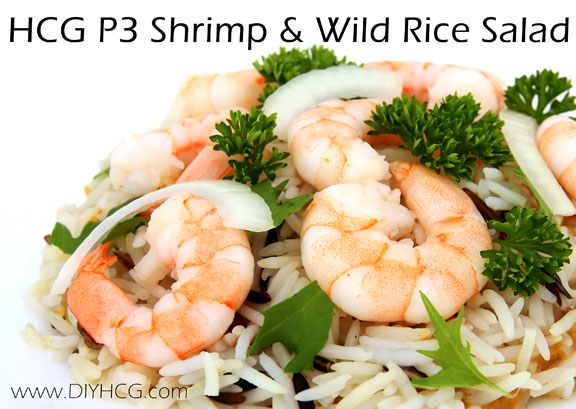 HCG Diet Phase 3 Recipe: Shrimp and Wild Rice Salad
This recipe is only safe for the second 3 weeks of HCG Phase 3 because of the 'starch' in the rice.
If you are on the first 3 weeks of HCG Phase 3, replace the rice with Miracle Noodle Orzo Pasta.*
Ingredients
1 cup shrimp

½ cup wild rice

¼ cup short-grain basmati rice

1 tsp sea salt

3 cups water

2 tbsp chicken stock

½ tsp onion powder

½ tsp garlic powder

½ tsp soy sauce (low sodium preferred)

1 white onion

garnish (optional)
Instructions
Make sure you have the correct type of shrimp. We recommend using pre-cooked, medium-size shrimp (in the frozen food section).

If you have fresh or uncooked shrimp, simply boil the shrimp to thoroughly cook before grilling. Large-size shrimp takes about 5-7 minutes, medium-size shrimp takes about 3-4 minutes. If using frozen, make sure they are completely thawed before use. Remove tails.

Slice onion in half and then both halves into small disc-like shapes (about ¼-inch thick). Break the onions apart and set aside.

To make the rice, place 3 cups water, salt, and both types of rice in a large pot.

Bring to boil. Stir well, cover, and reduce heat to a simmer. Cook covered for about 40-45 minutes or just until the rice softens (and kennels puff open, if using that kind of rice).

Remove from heat and drain off any excess liquid. 

Mix the cooked rice and chicken stock in a medium-size saucepan over low heat.

Add the shrimp, onion powder, garlic power, and soy sauce, stir well.

Cover and warm for about 1-2 minutes. Since the shrimp is already cooked, avoid heating too long or the shrimp may become tough.

Once warm, drain off any excess liquid.

Transfer to a serving dish.

Top with onion slices, and a garnish, if desired.

Serve and enjoy!
Recipe Notes
Makes 2 servings. Cover and refrigerate any leftovers.
If you do not like the strong flavor of onion, feel free to sauté them separately until softened.
*Watching calories? Use the miracle noodle brand of 'orzo' pasta. It's a calorie-free, carb-free, rice-like pasta that would be perfect for making this recipe low calories and allowed for the 1st 3 weeks of HCG Phase 3. They are made from purified water and yam flour and absorb the flavors of whatever sauce or broth in which they are cooked. See them here.