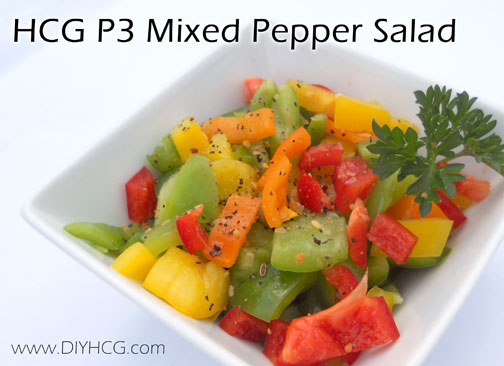 HCG Diet Phase 3 Recipe: Mixed Pepper Salad
This recipe is a great side dish for the first 3 weeks of HCG Phase 3 because it doesn't contain sugars or starches. This recipe is best as a side-dish or a snack between meals. Serve this recipe alongside a 4-6 ounce protein serving. Protein is an important aspect of maintenance because not consuming enough protein can make it harder for you to maintain your weight loss. 
The freshness and the juicy crunch will make your tastebuds dance!
Ingredients
1 green bell pepper

1 yellow bell pepper

1 orange bell pepper

1 red bell pepper

1 tbsp apple cider vinegar

1 tbsp sesame oil*

¼ tsp freshly-cracked black pepper

¼ tsp course sea salt


¼ tsp onion powder

¼ tsp garlic powder

3 tbsp feta cheese, crumbled (optional)
Instructions
Slice and remove the seeds from the bell peppers and chop them into bite-sized pieces (about ½-inch) and place them

 into a large bowl.

In a separate bowl, combine the apple cider vinegar, sesame oil, sea salt, black pepper, onion powder, and garlic powder.

Stir with a whisk until well combined. Pour this dressing mixture over the peppers and stir well.

Cover and refrigerate for about 45-60 minutes to allow the flavors to combine and slightly soften the peppers.

Remove from fridge and stir well. 

Optional: Slightly score the feta cheese with a knife and use your hands to crumble it.

Add the crumbled feta cheese to the pepper mixture and stir. 

Transfer to smaller individual dishes, garnish with fresh parsley, if desired.

Serve and enjoy!
Recipe Notes
This recipe makes about 3-4 servings. Store leftovers in an air-tight container with a lid in the fridge; eat leftovers within 24 hours.
*If you do not want to make your own salad dressing with the vinegar and the sesame oil, try using Simple Girl Citrus Ginger dressing for this recipe. The Asian inspired flavors will add the needed kick to this recipe. Simple Girl salad dressings and sauces were specifically formulated for all phases of the HCG Diet. See them here.