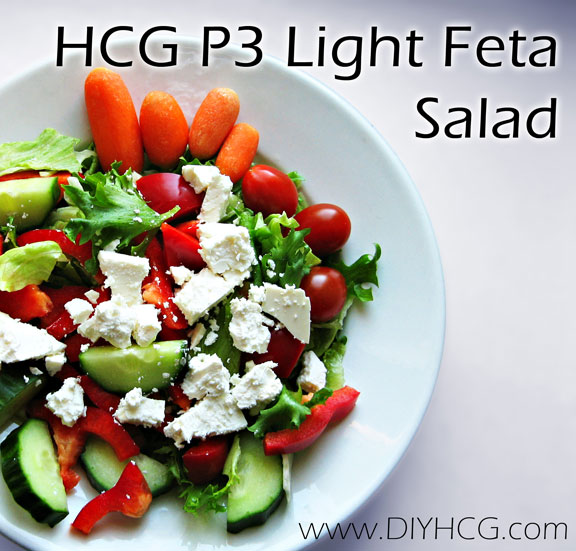 HCG Diet Phase 3 Recipe: Light Feta Salad
This recipe is allowed on the 1st 3 weeks of HCG Maintenance as it does not contain any sugars and starches, assuming you use the correct type of salad dressing. This recipe does however contain cheese, which is a cautionary item for HCG maintenance. Do not have too many cautionary items in one day or you may risk gaining weight and being forced to do a steak day.
This fresh salad is loaded with delicious vegetables and is perfect as a side-dish or quick snack. We hope you like it!
Ingredients
2 cups spring mix lettuce*

½ cucumber (English cucumber preferred)

1 red bell pepper

¼ cup grape or cherry tomatoes

4-5 baby carrots

¼ cup all-natural feta cheese, crumbled

2 tbsp low-carb, low-sugar salad dressing**
Instructions
Wash all of your vegetables to be used in this recipe, do not skip this step especially if you do not buy organic ingredients. Washing your vegetables can cut down on the amount of pesticide you ingest from your foods.

Add spring mix lettuce to a large bowl.

If you bought crumbled feta cheese, skip this step. If you bought a block of feta cheese you'll need to crumble it yourself... do this by lightly scoring your block of cheese with a sharp knife and then use your hands to slowly tears and break apart the feta cheese until it reaches your desired size.

Half the English cumber length-wise and slice into ¼-inch pieces, add to bowl.

Slice and remove seeds from the red bell pepper, chop into small pieces (you should end up with about ¼ cup of chopped peppers) and add to bowl.

Slice tomatoes in half, if desired, add to bowl.

Chop carrots, if desired, add to bowl (we left ours whole).

Add your chosen flavor of low-carb, low-sugar salad dressing to the bowl and toss.

Continue to toss until all ingredients are fully coated.

Transfer all the ingredients to a plate or smaller bowl, and top with crumbled feta cheese and freshly ground black pepper, if desired. Enjoy!
Recipe Notes
Serve this side salad recipe alongside a decent serving of protein, such as grilled chicken breast or grill fish. Eating enough protein is very important during HCG maintenance.
*If you do not have spring mix lettuce available you can make something similar by mixing the following types of lettuce: chopped red romaine, chopped green romaine, chopped butter lettuce, chopped red and/or green chard, chopped arugula, chopped radicchio, and chopped baby spinach.
**If you have not heard of 'Simple Girl' salad dressings, you should check them out. They are oil-free, sugar-free, carb-free and are approved for all phases of the HCG Diet. We used the Simple Girl Vinaigrette Salad dressing for this recipe and it was amazing. See all the Simple Girl dressings here.