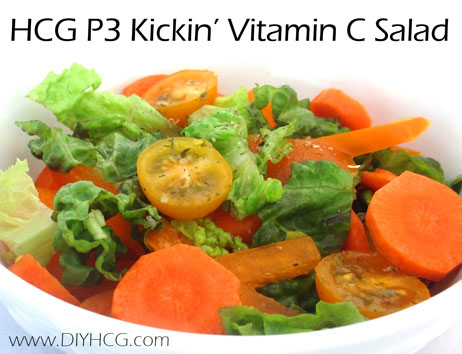 HCG Diet Phase 3 Recipe: Kickin' Vitamin C Side Salad
This recipe is safe for the 1st 3 weeks of HCG Phase 3 and beyond because it does not contain and sugar or starches.
Ingredients
1 cup romaine lettuce (washed and dried)

1 carrot, peeled

½ cup yellow or red grape tomatoes

1 orange


½ orange or red bell pepper

1 tbsp salad dressing* 
Instructions
Peel the orange and segments out the pulp with a shape knife.

Cut all the ingredients into bite-size pieces (see photo from example).

Place all ingredients in a large bowl, add your favorite low-sugar, low-carb dressing.

Toss, serve, and enjoy.
Recipe Notes
*Make sure your salad dressing is low-sugar and low-carb. Our favorite salad dressing for this recipe is the Simple Girl Sweet Vinaigrette dressing. See all the Simple Girl dressings here. 
Bonus HCG Recipe!
HCG Diet Phase 3 Recipe: Breakfast Casserole
This recipe is safe for the 1st 3 weeks of HCG Phase 3 and beyond because it does not contain and sugar or starches. Submitted by Sheila Viers.
Ingredients
2 poblano chile peppers

4 links (12 oz) chicken sausage, casing removed

1 tsp olive oil

½ medium onion, diced

½ red bell pepper, diced

2 garlic cloves, minced

12 egg whites

4 whole eggs

1 cup skim milk

1 tsp hot sauce

½ tsp chili powder

½ tsp garlic powder

½ tsp onion powder

¼ tsp salt

¼ tsp black pepper

¼ cup green onion, chopped

2 tbsp cilantro, chopped

4 oz low-fat cheddar cheese, grated

Oil to grease baking dish

Sour cream, as garnish
Instructions
Preheat oven to 350° F. Roast the poblanos by placing them on an open flame. You can do this on your stove top if you have gas burners, or on your outdoor grill.

Turn them frequently with tongs, until all sides are charred black.

Place the peppers in a plastic or paper bag until cool enough to handle. (Placing them in the bag helps to separate the skin from the meat of the pepper.)

Peel the skin off, split lengthwise, and remove seeds and stems.

Grease 8×8-inch baking dish and lay peppers evenly across bottom.

In a large pan, cook the chicken sausage over medium heat, breaking it apart as it browns.

Remove from heat, and spoon crumbled sausage evenly over poblano peppers.

In the same large skillet, add oil, onion and bell peppers, and sauté over medium heat until onion becomes translucent.

Add the garlic and stir for one minute.

Spoon mixture evenly over sausage and poblanos.

Add green onions and cilantro over top.

In a large bowl, whisk the egg whites, eggs, milk, hot sauce, chili powder, garlic powder, onion powder, salt, and pepper together.

Gently pour into baking dish, making sure to coat all ingredients.

Add cheese over top as the final layer.

Bake for 30 minutes, or until golden and bubbly and egg is no longer translucent.