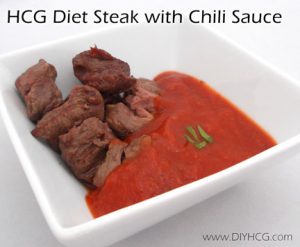 HCG Diet Phase 2 Recipe: Steak with Chili Sauce
This recipe is safe for Phase 2 (VLCD Phase) of the HCG Diet and counts as 1 meat serving and 1 vegetable serving.
To make this recipe in bulk, simply multiply the ingredients by as many servings as you want. Then divide the finished product into individual serving size containers with lids, and place in the fridge for a quick on-the-go lunch or dinner.
You'll love this recipe while on Phase 2 of the HCG Diet!
Ingredients
100 grams (3.5 ounces) extra lean steak*
⅛ tsp sea salt
¼ tsp freshly ground black pepper
Simple Girl Steak Seasoning (optional)
8 ounces homemade chili tomato sauce (see recipe below)
Homemade Chili Sauce Recipe Ingredients
1 large or 2 small tomatoes, chopped
⅛ tsp chili powder
3 drops clear stevia
3 garlic cloves, minced**
¼ tsp onion powder
⅛ tsp sea salt
⅛ tsp black pepper
⅛ tsp cumin
Homemade Chili Sauce Instructions
Chop tomatoes and mince fresh garlic. Combine with the rest of the ingredients.
Instructions
Mince the garlic cloves.**
In a small saucepan, add chopped tomato, garlic, cumin, onion powder, chili powder, stevia, salt and pepper.
Stir tomato and spices together.
Cover with lid and simmer on low heat for about 10-15 minutes until warm, stirring frequently to avoid burning.
Preheat a non-stick pan or grill over medium heat.
Sprinkle steak with salt and pepper. Or, for added flavor, use the Simple Girl Steak Seasoning. This seasoning will make you think you're in a top-rated steak house, rather than eating a boring, 'diet' meal at home.
Add the seasoned steak to non-stick pan or grill and cook over medium heat until both sides are browned and the steak is cooked to your desired level of 'doneness'.
Remove the steak from the pan or grill, set aside, and let cool.
Once the steak is thoroughly cooled, cut it into small cubes (about 1-inch).
Remove the tomato mixture from heat and pour into a bowl.
Add steak pieces, top with more salt and pepper if desired, and enjoy!
You may mix the steak and tomato sauce together or use the sauce for dipping.
Recipe Notes
*Ensure you have the correct type of steak. Use extra lean steak with no more than 10% fat. The best types of steak for the HCG Diet are filet mignon, flank steak, T-bone, top round, top sirloin, and tenderloin.
**You should always mince fresh garlic rather than using pre-minced garlic from the grocery store. Most pre-minced garlic contain preservatives. Be on the safe side... mince your own fresh garlic cloves for the best possible weight loss.