HCG Diet Phase 2 Recipe: Italian Garlic Shrimp Cocktail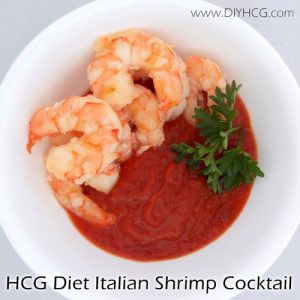 This recipe is safe for Phase 2 of the HCG Diet and counts as 1 protein serving, 1 vegetable serving, and part of your daily allotted lemon juice. You are allowed the juice of one lemon per day while on Phase 2 of the HCG Diet. If you have already reached that amount of lemon juice, just omit from the recipe.
This 'Italian Garlic Shrimp' is one of our top recipes... it's warm, meaty, with a great tomato flavor. Try this for dinner tonight!
Ingredients
100 grams (3.5 ounces) shrimp*

2 tbsp Homemade Chicken Broth**

1 garlic clove, minced***

3 tbsp dried parsley

⅛ tsp sea salt

⅛ tsp black pepper

8 ounces sugar-free tomato sauce****

½ lemon, for serving
Instructions
Make the Homemade Chicken Broth. Once done, set aside.

If you have fresh or non-precooked shrimp; simply boil the shrimp until thoroughly cooked before grilling. Large-sized shrimp takes about 5-7 minutes to boil, medium-sized shrimp takes about 3-4 minutes to boil. Thaw frozen shrimp before use. 

Preheat oven to 450 degrees F.

In a small, oven-safe dish, mix together the chicken broth, minced garlic, salt, pepper, and parsley. Stir well.

Add the shrimp to the mixture, squeeze lemon juice over top of shrimp and toss until it is coated with the broth/lemon juice mixture. 

Bake in the oven uncovered for about 10 minutes.

While shrimp is baking, warm the tomato sauce in a small saucepan.

Once warm transfer the sauce onto a serving dish.

Remove the shrimp from the oven.

You can either use the tomato sauce as a dipping sauce or stir everything together. Enjoy!
Recipe Notes
*Make sure you have the correct type of shrimp. We recommend using pre-cooked, medium-size shrimp (in the frozen food section). 
**It is not recommended to use store-bought chicken stock while on the HCG Diet because it usually contains preservatives and that are not allowed on the HCG Diet and could slow or stall your weight loss... be on the safe side and make your own. 
***You should always mince fresh garlic rather than using pre-minced garlic from the grocery store. Most pre-minced garlic contain preservatives. Be on the safe side... mince your own fresh garlic cloves for the best possible weight loss.
****Most store-bought tomato sauces contain sugar, preservatives, or other ingredients that could stall your weight loss. Analyze the ingredients of any tomato sauce to be used on the HCG Diet before purchase. Avoid oil, starches, sugar, hard preservatives, chemicals, and words ending in -ose, -tol, or -dextrin.