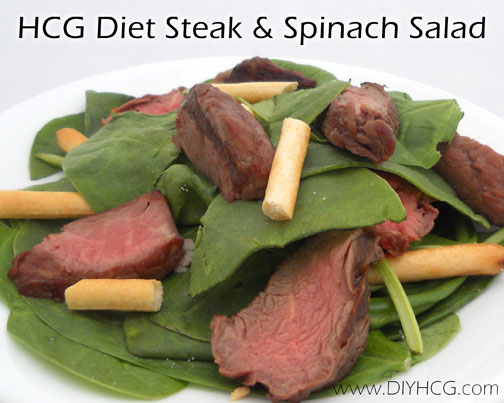 HCG Diet Phase 2 Recipe:Steak Spinach Salad
This recipe is safe for Phase 2 of the HCG Diet and counts as 1 meat serving, 1 vegetable serving, and 1 'carb' serving. Make sure you use the correct type of steak for compliance with the HCG Diet. You will need an extra lean type of steak such as sirloin, filet mignon, T-bone, etc. Trim any visible fat from the meat before cooking. 
The perfect summer-time lunch, this steak and spinach salad is so fresh and tastes amazing. We hope you like it!
Ingredients
Instructions
Mince the fresh garlic until fine. 

Place the raw steak in a zip top bag along with the sea

 salt, black pepper, freshly minced garlic, onion powder and 1 tablespoon of Simple Girl Salad Dressing. 

Zip tightly and place in the fridge to marinate. Let marinate for at least 1 hour or overnight.

Tip: Gently prick your steak with a fork until there are several small holes in the meat before marinating. This will help the seasonings and the salad dressing absorb deeper into the meat providing a better flavor.

Remove the steak from the zip-top bag, discard left-over dressing.

Grill or bake the marinated steak without the use of any oil or cooking spray (whichever cooking method you prefer) until it reaches your preferred level of 'doneness'. We like to grill the steak for this recipe because the 'sear' of the steak makes it taste better. 

Wash and dry the fresh spinach. This step is important to remove any contaminates, especially if you do not buy organic produce.

Once the spinach is dry, place in a large bowl, add the steak, and your favorite flavor of Simple Girl Salad Dressing.

Toss until well combined and t

ransfer to a large plate.

Take a broken grissini breadstick and add to the salad or place into a zip-top bag and crush to create a crouton topping. 

For this recipe, we used the multi-grain grissini breadstick, but any of the flavors would be fine.

Serve and enjoy!
Recipe Notes
*You should always mince fresh garlic rather than using pre-minced garlic from the grocery store. Most pre-minced garlic contain preservatives. Be on the safe side... mince your own fresh garlic cloves for the best possible weight loss.
**Check the ingredients of the onion powder, as some brands of onion powder can contain unallowed ingredients such as -dextrose. Avoid any onion powder brand with words ending in -ose, -tol, or -dextrin.
***We recommend the Simple Girl brand of salad dressing while on the HCG Diet. To purchase Simple Girl Dressings and sauces, click here. 
Need HCG Diet grissini breadsticks?
Grissini breadsticks are a staple for the HCG Diet, but sometimes it's hard to find an 'approved' brand. Many stores carry some type of grissini breadsticks but the question is are they the right size, right kind, and contain the right ingredients in order to be approved for the HCG Diet? Don't worry, we've got you covered. We carry three types of grissini breadsticks from Italy and are approved for the HCG Diet. They come in traditional flavor, garlic flavor, and multi-grain. Or, if you are gluten-free we have a great HCG Diet approved gluten-free grissini breadstick replacement called 'Ancient Grains Crispbread'. See all the types of grissini breadsticks and gluten-free options here.