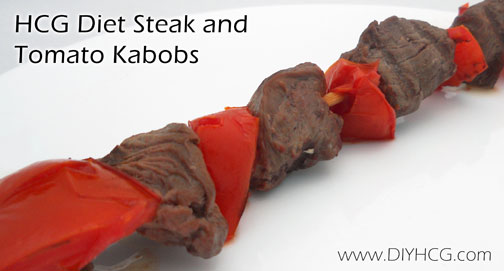 HCG Phase 2 Recipe: Sirloin Steak and Tomato Kabobs
Who says you can't have kabobs on the HCG Diet? This recipe is safe for Phase 2 of the HCG Diet and counts as 1 meat serving and 1 vegetable serving. We hope you like it!
Ingredients
100 grams (3.5 ounces) extra lean sirloin steak

2 tbsp oregano


½ tsp salt

2 cloves fresh garlic*

1 large tomato***
Instructions
Cut the lean steak into cubes, about 1-inch size each. 

Press the garlic cloves through a garlic press or finely chop until minced.

Place the steak, Simple Girl Vinaigrette Dressing, minced garlic, oregano, salt, and garlic into a zip-top bag to marinate.

Place in fridge and let marinate for at least 1 hour or overnight.

Once the meat is marinated, quarter or cut the tomato into large cubes.

Prepare your metal or wood skewers. (If using wood skewers, make sure they were soaked in water for a least one hour before use to avoid the risk of catching fire on the grill). 

Alternating the meat and tomato chunks, place them on the skewers.

Preheat your grill for a few minutes.

Place the kabobs on the grill, close lid. Let cook for about 2-3 minutes per side.

Remove from grill once meat is thoroughly cooked.

Serve and enjoy!
Recipe Notes
*You should always mince fresh garlic rather than using pre-minced garlic from the grocery store. Most pre-minced garlic contain preservatives. Be on the safe side... mince your own fresh garlic cloves for the best possible weight loss.
**If you do not have the Simple Girl Vinaigrette Dressing you can alternatively use distilled, white vinegar. The results will not be quite the same, but should still be fine. For best results, we recommend purchasing the vinaigrette dressing, plus it's great as a salad dressing, marinade, or dipping sauce for your vegetables. 
***For this recipe try to use firmer tomatoes, if you use soft tomatoes they will fall off the skewer during the cooking process.