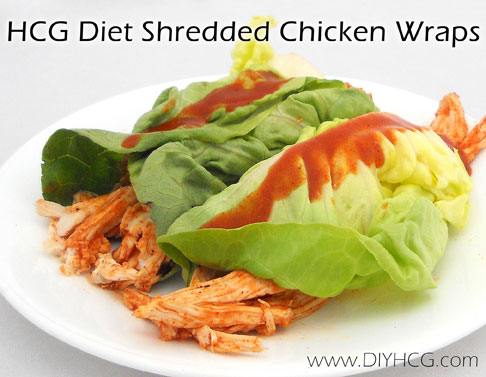 This recipe is safe for Phase 2 of the HCG Diet and counts as 1 meat serving and 1 vegetable serving.
For this recipe you will need the Simple Girl Carolina Kick BBQ Sauce. This sauce was specifically made for the HCG Diet. It is sugar-free, oil-free, and sweetened with diet safe stevia.
We hope you like it!
Ingredients
100 grams (3.5 ounces) boneless, skinless chicken breast
¼ tsp sea salt
2-3 large lettuce leaves
Instructions
Trim any visible fat off the chicken breast meat.
Place the chicken in a large pot of boiling, salted water.

Continue to boil the chicken until it's cooked well and reached an internal temperature of 165 degrees F.

Remove chicken from water, set aside to cool.

Lay out the large lettuce leaves. You can use any type of lettuce you want, we used romaine and it tasted delicious!

Wrap the saucy chicken in lettuce leaves for taco-style dining.

Once the chicken is cool enough to handle, use your hands to shred the chicken.

Place the shredded chicken in a small bowl, add the Simple Girl Carolina Style BBQ Sauce, and toss until the chicken is fully coated.

Top with more Simple Girl Carolina Style BBQ Sauce, if desired.
Recipe Notes
Buy Simple Girl Carolina Kick BBQ Sauce Now!

This BBQ Sauce is perfect to use as a marinade, cooking sauce, or dipping sauce for all your favorite foods while on the Phase 2 of the HCG Diet. This sauce adds a perfect sweet, smoky flavoring to your burger, steak and chicken while on Phase 2 of the Low Calorie Diet.
This is also a great sauce to use on Phase 3 of the diet because it fits within the no sugars and no starches rule of the first 3 weeks of maintenance. Most non-sugar free barbecue sauces have 8 or more grams of sugar per serving… that is crazy! This sauce has only 5 calories and 1 carb in a 2 tablespoon serving. Avoid weight gain and blood sugar spikes by continuing to use this sauce for Phase 3 and for life!
Need HCG Diet grissini breadsticks?
Grissini breadsticks are a staple for the HCG Diet, but sometimes it's hard to find an 'approved' brand. Many stores carry some type of grissini breadsticks but the question is are they the right size, right kind, and contain the right ingredients in order to be approved for the HCG Diet? Don't worry, we've got you covered. We carry three types of grissini breadsticks from Italy and are approved for the HCG Diet. They come in traditional flavor, garlic flavor, and multi-grain. Or, if you are gluten-free we have a great HCG Diet approved gluten-free grissini breadstick replacement called Organic Ancient Grain Crispbread. See all the types of grissini breadsticks and gluten-free options here.
Go back to HCG Diet Phase 2 Recipes for Weight Loss.