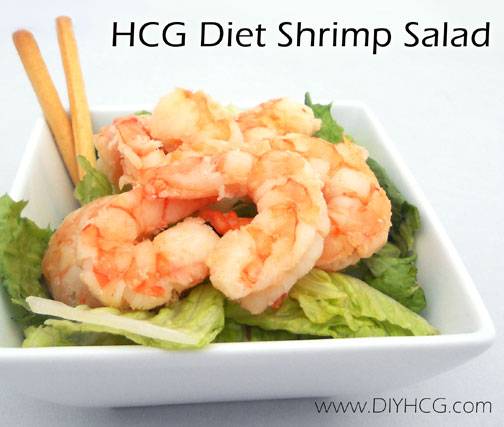 HCG Diet Phase 2 Recipe: Grilled Shrimp Salad
This recipe is safe for Phase 2 of the HCG Diet and counts as 1 vegetable serving, 1 'carb' serving, and 1 protein serving.
Make sure you have the correct type of shrimp. We recommend using pre-cooked, medium-sized thawed shrimp (in the frozen food section).
Ingredients
100 grams (3.5 ounces) medium-sized shrimp

⅛ tsp sea salt

⅛ tsp freshly-cracked black pepper

⅛ tsp ground cumin

⅛ tsp cayenne pepper




2 cups of lettuce

2 tbsp HCG Diet safe salad dressing* (any flavor)

1 grissini breadstick**
Instructions
If you have fresh or non-precooked shrimp, simply boil the shrimp to thoroughly cook before grilling. Large-sized shrimp takes about 5-7 minutes to boil, medium-sized shrimp takes about 3-4 minutes to boil. 

Skewer the shrimp. If using wood skewers; make sure they were pre-soaked for at least an hour before use.

In a small bowl; mix together the spices: salt, pepper, cumin, and cayenne pepper until well combined. Sprinkle or rub the spice mixture onto the shrimp skewers.

Preheat a non-stick surface such as a George Foreman grill, out-door BBQ grill, or similar.

Sear both sides of the shrimp over high heat for 1-2 minutes a side. Remember the shrimp is already cooked, and this step is just for the sear. Do not overcook the shrimp or it may become tough.

Remove the shrimp from grill when ready, set aside to cool. 

Once the shrimp are cooled, remove from skewers and place in a medium-sized bowl.

Cut lettuce into bite-sized pieces (about ¼-inch) and add to the same bowl. You can choose any type of lettuce for this recipe, we used r

omaine lettuce and it turned out great!

Add your choice of HCG Diet safe salad dressing* to the bowl with the shrimp and lettuce. Toss until well combined.

Transfer the salad mixture to a serving dish. 

Serve with any flavor of grissini breadstick.  

If you want to get really fancy, break the grissini breadstick into smaller pieces and sprinkle over the salad for an added crunch, like croutons.
Recipe Notes
*We used the Simple Girl Vinaigrette Dressing. Simple Girl dressings and sauces were specifically created for the HCG Diet. These products are gluten free, contain zero fat, zero preservatives, zero sugars, contain no artificial sweeteners and are made using only a diet-approved brand of stevia. They are fat-free, sugar-free, and gluten-free.
**For this recipe, we used the traditional grissini breadsticks. See all the grissini breadsticks we recommend here.
Go back to HCG Diet Phase 2 Recipes for Weight Loss.