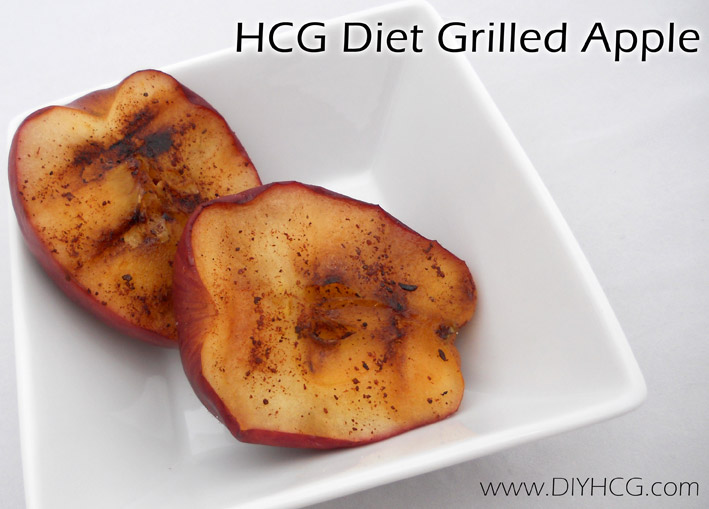 HCG Diet Phase 2 Recipe: Grilled Apple
This recipe is safe for Phase 2 of the HCG Diet and counts as 1 fruit serving and your daily allotted amount of lemon juice. You're allowed the juice of one lemon per day. If you've already had your allotted amount of lemon juice for the day, simply omit it from this recipe and use water instead. 
This is one of our favorite HCG Diet recipes because it tastes like a yummy dessert treat. We hope you like it!
Ingredients
Instructions
Preheat the oven to 375 degrees F.

Cut the apple in half and remove the core and seeds.

Mix cinnamon, nutmeg, vanilla crème stevia, and powdered stevia in a small bowl until well combined.

Sprinkle the spice mixture over the apple halves and bake in the oven for approximately 13-15 minutes at 375 degrees or until apples are soft. The cooking time may be longer or shorter depending on your oven. Check every 5 minutes to avoid over cooking. Sprinkle freshly-squeezed lemon juice over the apple halves.

Preheat a non-stick grill. We used a George Foreman grill. Place the apple halves on the warm grill for 1-2 minutes per side to get the nice grill marks.

If you want a little more 'spice' to your apple, remove from the grill and add more cinnamon, nutmeg or even some ground clove spice.

Cool slightly, serve and enjoy!
Recipe Notes
*It is important to used freshly squeezed lemon juice over the store-bought lemon juice because it usually contains preservatives that could slow or stall your weight loss. Always buy fresh lemons and squeeze your own lemon juice while on the HCG Diet.
**Not all stevia is the same... on Phase 2 of the HCG Diet you should only use 'pure' stevia brands. Most store-bought stevia contains other sweeteners besides stevia (rebiana). Avoid any stevia brand that has any words ending is -ose, -tol, or -dextrin to ensure the best possible weight loss.