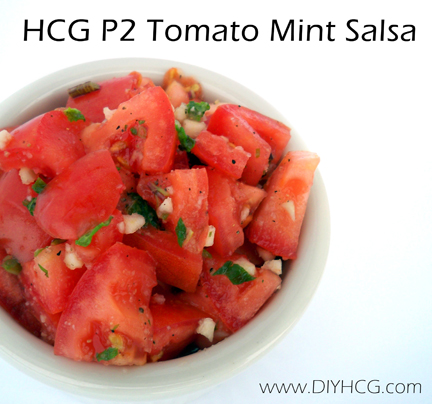 HCG Diet Phase 2 Recipe: Tomato Mint Salsa
This recipe is safe for Phase 2 and counts as 1 vegetable serving and all of your daily allotted lemon juice. You are allowed the juice of one lemon per day. If you have already reached that amount of lemon juice, just omit from the recipe. 
This is a great "make-ahead" recipe. You can make several servings, cover, and refrigerate for up to 3 days. 
Ingredients
1 large red tomato

1 clove garlic, minced*

1 bunch fresh mint, minced

1 lemon, juiced**

½ tsp garlic powder***

1 tsp onion powder***

Coarse sea salt (to taste)

Fresh ground black pepper (to taste)
Instructions
To make this recipe you need to decide the type of salsa texture you want: Chunky salsa or Smooth salsa.
Chunky salsa: 
Mince the mint leaves.

Mince the garlic clove.

Roughly chop the tomato.

Place all the chopped ingredients into a small bowl (make sure to use the juice from the tomato).

Top the mixture with the freshly squeezed lemon juice.

Add all the seasonings: garlic powder, onion powder, salt, and pepper.

Stir well, serve, and enjoy.  
Smooth salsa:
Combine all ingredients (including seasonings: garlic powder, onion powder, salt, and pepper) into a blender or food processor.

Pulse until you reach your desired texture.
Recipe Notes
*You should always mince fresh garlic rather than using pre-minced garlic from the grocery store. Most pre-minced garlic contain preservatives. Be on the safe side... mince your own fresh garlic cloves for the best possible weight loss.
**It is important to used fresh-squeezed lemon juice over the store-bought lemon juice because it usually contains preservatives that could slow or stall your weight loss. Always buy fresh lemons and squeeze your own lemon juice while on the HCG Diet. 
***Check the ingredients of the onion powder and garlic powder as some brands contain unallowed ingredients such as -dextrose. Avoid any brand with words ending in -ose, -tol, or -dextrin. 
Go back to HCG Diet Phase 2 Recipes for Weight Loss.