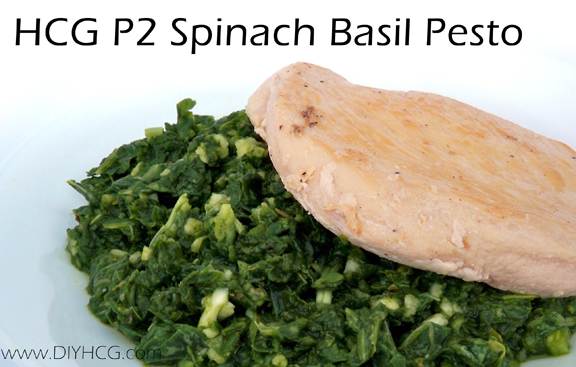 HCG Diet Phase 2 Recipe: Spinach Basil Pesto
This recipe is safe for Phase 2 of the HCG Diet and counts as 1 protein serving, 1 vegetable serving, and all your daily allotment of lemon juice. You are allowed the juice of one lemon per day. If you have already reached that amount of lemon juice, just omit from the recipe.
This Spinach Basil Pesto side dish is delicious served with seasoned chicken. We hope you like it! 
Ingredients
1 cup fresh baby spinach

1 handful fresh basil 

3 fresh garlic cloves

1½ tbsp apple cider vinegar

1 fresh lemon,* juiced

¼ tsp oregano

⅛ tsp sea salt

⅛ tsp black pepper

100 grams (3.5 ounces) boneless, skinless chicken breast

HCG Diet approved seasoning** 
Instructions
Place the apple cider vinegar, lemon juice, oregano, salt and pepper into a small bowl. Stir or whisk until well combined, set aside. 

Place the spinach, fresh basil, and garlic cloves into a blender or food processor. Pulse a few times to chop.

Slowly add the vinegar and lemon juice mixture in a constant stream while the food processor or blender is running.

Stop and scrape the edges of the container to get all pesto mixture towards the bottom.

Pulse a few more times until it becomes a paste-like texture.

Remove from blender or food processor and transfer to a serving dish, set aside.

Trim any visible fat from the chicken meat. You can season the chicken breast with any HCG Diet approved spices of your choice. We used the Simple Girl Lemon Herb Seasoning, and it tasted amazing!

After seasoning, bake or grill the chicken breast without the use of any oils or fat.

Cook the chicken until it reaches an internal temperature of 165 degrees F.

Place the cooked chicken breast on top of the spinach pesto.

Season with more salt and pepper, if desired. 

Serve and enjoy!  
Recipe Notes
*It is important to used freshly squeezed lemon juice over the store-bought lemon juice because it usually contains preservatives that could slow or stall your weight loss. Always buy fresh lemons and squeeze your own lemon juice while on the HCG Diet.
**Not all spices are safe for Phase 2 of the HCG Diet. Check the ingredients and avoid anything containing sugar, starches, oils, preservatives, and words ending in -ose, -tol, or -dextrin. The Simple Girl Seasonings were created especially for the HCG Diet. They are gluten free, fat free, preservative free, contain no sugar or artificial sweeteners and are sweetened exclusively with HCG Diet approved stevia.