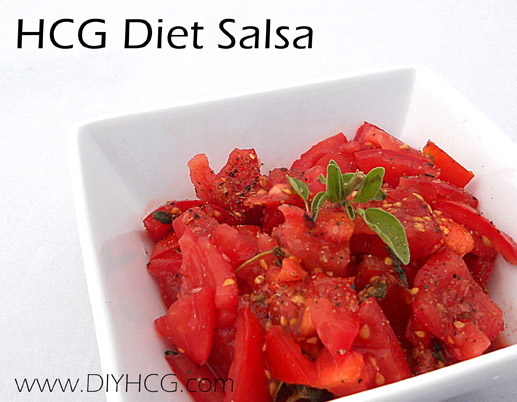 HCG Diet Phase 2 Recipe: Homemade Salsa
This recipe is safe for Phase 2 of the HCG Diet and counts as 1 vegetable serving and some of your daily allotted amount of lemon juice. You are allowed the juice of one lemon per day.
Store-bought salsa is not allowed because it usually has multiple types of unallowed vegetables, mixed vegetables, sugars, and preservatives. Make your own homemade salsa that is approved for Phase 2 of the HCG Diet!!! Yum!
Ingredients
1 medium red tomato

1 tbsp lemon juice, fresh squeezed*

2 cloves fresh garlic, minced**

¼ tsp oregano

1 tsp onion powder***

1 tbsp fresh cilantro

½ tsp coarse sea salt

½ tsp freshly-ground black pepper

½ packet powdered stevia**** (optional for those who like sweeter salsa)

Cayenne pepper, to taste (optional for those who like spicier salsa)
Instructions
Core and chop the tomato into small chunks (about ¼-inch pieces). Place tomato pieces, avoid letting in any lemon seeds.

Mince your garlic cloves into very small pieces and add them into the tomato bowl.

Finely chop the cilantro avoiding them stem area. Add the cilantro to bowl.

Add the remaining spices: oregano, onion powder, sea salt, and black pepper.

Once ready to serve, give it a taste-test. If you are someone who prefers sweeter style salsa, add some 'pure' powdered stevia or a couple drops of clear liquid flavored stevia.

If you are someone who prefers spicier salsa, add some cayenne pepper.

Stir well, serve, and enjoy!
Recipe Notes
You may eat this salsa fresh or for best results, cover and place in the refrigerator for at least a few hours or overnight to let all the flavors combine and the juices release.
*It is important to used fresh-squeezed lemon juice over the store-bought lemon juice because it usually contains preservatives that could slow or stall your weight loss. Always buy fresh lemons and squeeze your own lemon juice while on the HCG Diet.
**You should always mince fresh garlic rather than using pre-minced garlic from the grocery store. Most pre-minced garlic contain preservatives. Be on the safe side... mince your own fresh garlic cloves for the best possible weight loss.
***Check the ingredients of the onion powder, as some brands of onion powder can contain unallowed ingredients such as -dextrose. Avoid any onion powder brand with words ending in -ose, -tol, or -dextrin.
****Only 'pure' stevia is recommended for Phase 2 of the HCG Diet. SweetLeaf® stevia is the brand we recommend and it's allowed in any quantity. If you do not have SweetLeaf® stevia, look at the ingredients and if you see any words ending in -ose, -tol, or -dextrin, avoid using that type of stevia during Phase 2 of the HCG Diet. Click here to purchase SweetLeaf® clear liquid flavored stevia.