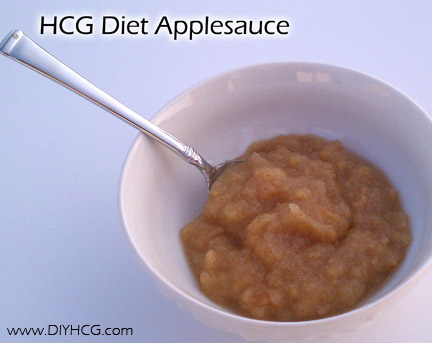 HCG Diet Phase 2: Homemade Applesauce
It is difficult to find a brand of applesauce that is allowed on the HCG Diet. Most store-bought applesauce contains sugar, preservatives, etc. Therefore, they are not recommended because they could slow or stall your weight loss. This homemade applesauce recipe is safe for Phase 2 of the HCG Diet and counts as 1 fruit serving. We hope you like it!
Ingredients
1 medium-sized apple (any variety)

3 tbsp water

1-2 packets powdered stevia* (or to taste)

1 tsp cinnamon (or to taste)

nutmeg or ground clove (optional)
Instructions
Peel, core and dice your apple into small pieces (about ½-inch). 

Place the apple pieces into a small crockpot or small pot with a lid.

Add the water and desired amount of cinnamon.

Cook the chopped apple mixture for about two hours over low heat or until soft. If you are using a pot on the stove method, make sure to stir the apple pieces every 20-30 minutes to prevent them from sticking to the pan.

When the apple pieces are finished cooking, mash with fork until the mixture has reached your desired consistency.

Add your preferred amount of stevia. Remember to add less and taste before adding more to avoid overly-sweet applesauce.

If you like smooth applesauce, place the apple pieces into a blender and pulse until it has reached your desired consistency.

Serve warm, if desired, or cover and place in the fridge for about an hour. 

Enjoy!
Recipe Notes
For this recipe, we used a gala apple. Feel free to add more stevia or cinnamon to make this recipe perfect for your taste buds. You might want to add a little nutmeg or ground clove for a spicy applesauce.
Want to get a little crazy? We've had some people use flavored stevia drops to make crazy mixed flavors of applesauce. Such as 'berry applesauce' or 'grape applesauce' using our flavored stevia drops. Remember these flavored stevia drops are highly concentrated, so if you are going to try this, omit the powdered stevia from this recipe and start by add 5-6 drops of the flavored stevia to avoid it being overly sweetened. You can always add more, but you can't take it away. See all the flavors we have here.
*When choosing the stevia for this recipe... many store-bought brands of stevia are stevia 'blends'. Only 'pure' stevia is recommended for Phase 2 of the HCG Diet. SweetLeaf® stevia is the brand we recommend and it's allowed in any quantity. If you do not have SweetLeaf® stevia, look at the ingredients and if you see any words ending in -ose, -tol, or -dextrin, avoid using that type of stevia during Phase 2 of the HCG Diet.
Go back to HCG Diet Phase 2 Recipes for Weight Loss.