HCG Diet Phase 2 Recipe: Dill Cucumber Salad
This recipe is safe for Phase 2 of the HCG Diet and counts as 1 veggie serving.
This is a 'customer favorite' because it's so crisp and fresh. A lot of dieters like this recipe because it amps up the flavor of the otherwise boring cucumber and reminds them of pickles and summer-time. We hope you like it!
Ingredients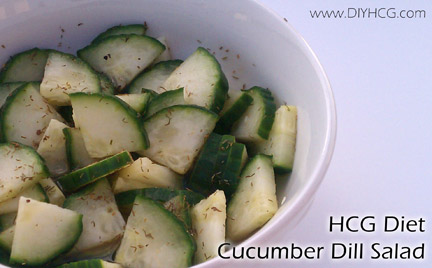 1 large cucumber (about 2 cups when chopped)

1 tsp apple cider vinegar

1 tsp dill seasoning (fresh or dried)

¼ tsp freshly ground black pepper (or to taste)


¼ tsp sea salt (or to taste)
Instructions
Start this recipe by washing the cucumber. This is an important step, especially if you do not by organic produce. Wash off as much pesticides and chemicals as possible. If the cucumber still has a waxy coating, you may want to peel the cucumber before making this recipe.

Slice the cucumber lengthwise into quartered sections. Chop the long cucumber pieces into ¼-inch chunks (see the photo for example). Set aside.


Add the rest of the ingredients: apple cider vinegar, dill seasoning, stevia, sea salt and black pepper in a small bowl.

Stir together until the powered stevia is completely dissolved into the vinegar.

Place the cucumber into the mixture, gently stir.

Add more salt and pepper, if desired.

Serve and enjoy.
Recipe Notes
This recipe is also great to make ahead and refrigerate for later because as this recipe chills, the vinegar acts as a pickling agent. Just make the day before, cover, and place in the fridge and the next day you will have a cold, pickle-like cucumber dish that will delight your taste buds.
*You want to ensure you have the correct type of stevia. Most main-stream store-bought stevia is not 'pure' stevia... they consist of stevia blends. Check the ingredients in your powdered stevia, if you see any words ending in -ose, -tol, or -dextrin avoid use of that brand of stevia while on Phase 2 of the HCG Diet. 
Go back to HCG Diet Phase 2 Recipes for Weight Loss.