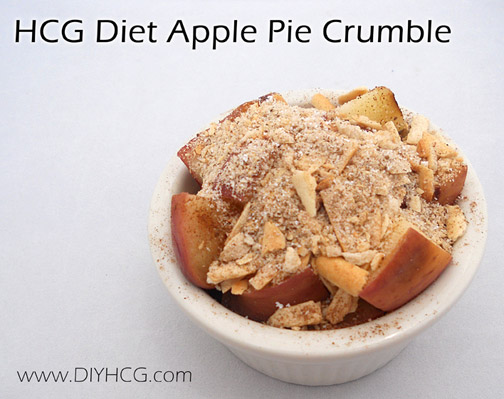 HCG Diet Phase 2: Apple Pie Crumble
This recipe is safe for Phase 2 of the HCG Diet and counts as 1 fruit serving and 1 'carb' serving.
This is one of our top recipes for the HCG Diet. It's warm, crunchy and bursting with sautéed apples. It's so yummy that it feels like you're cheating but you're not. We know you'll love it!
Ingredients
1 medium-sized apple (any variety)

1 packet powdered stevia*

ground cinnamon (divided)

1 grissini breadstick (divided)
Crust
½ grissini breadstick

½ packet powdered stevia*

¼ tsp ground cinnamon 

2 tsp water (as needed)
Topping
½ grissini breadstick

½ packet powdered stevia*

¼ tsp ground cinnamon 
Instructions
Preheat oven to 350 degrees F.

Core and remove the seeds from the apple.

Chop the apple into small bite-sized pieces (about ¼-inch). Set aside.

Place the grissini breadstick (see the brand we recommend here) into a zip top bag and crush with your fingers until the breadstick is broken down into a powder with several small chunks.
Crust
Make the crust by mixing the half of the crushed breadstick powder, powdered stevia and cinnamon in a small bowl. Stir well. Add water slowly to the crust mix.

Once it reaches a good consistency, press the crust mixture into the bottom of a soufflé dish or muffin tin.

Place apple pieces onto the top of the crust.
Topping
Combine all the topping ingredients (the other half of the crushed breadstick, stevia and more cinnamon).

Pour this topping mixture over the apple and bake at 350 degrees for 15-20 minutes or until the apples are softened.

Remove from oven, let cool slightly.

Serve and enjoy!
Recipe Notes
*When choosing the stevia for this recipe... many store-bought brands of stevia are stevia 'blends'. Only 'pure' stevia is recommended for Phase 2 of the HCG Diet. SweetLeaf® stevia is the brand we recommend and it's allowed in any quantity. If you do not have SweetLeaf® stevia, look at the ingredients and if you see any words ending in -ose, -tol, or -dextrin, avoid using that type of stevia during Phase 2 of the HCG Diet.
Go back to HCG Diet Phase 2 Recipes for Weight Loss.