HCG Personal Care Products
If you are looking for a list of hygiene products that are allowed on the HCG Diet, you've found it! We know how hard it can be to find items to use while on the diet because you have to look for so many different factors: no fats, no oils (except baby oil), no fruit juices, no yeasts, etc.  And little did most of us know that these items were even in lotions, soaps, foundations, and every other creamy thing that we put on our skin.
Below you will find a list of the recommended products for the HCG Diet, but as you may already know most lotions are NOT approved, but you're in luck because we have formulated Tiffalina's HCG Diet Lotion.
HCG Diet Safe Lotion
HCG Diet Safe Lip Moisturizer
HCG Diet Safe Hair Care
Herbal Essences Drama Clean
HCG Diet Safe Bar Soap
Dial Bar Soap
Ivory Bar Soap
HCG Diet Safe Hand Soap
Softsoap Hand Wash Aquarium
HCG Diet Safe Oil-free Shaving Cream
HCG Diet Safe Deodorant
Crystal Deodorant Stick or Roll-on
Secret Flawless Clear Crystal Deodorant (Clear Gel) (Clean Powder Scent)
HCG Diet Safe Toothpaste
Ultrabright Toothpaste
Some people mix small amount of baking soda and water for a homemade toothpaste.
HCG Diet Safe Make-up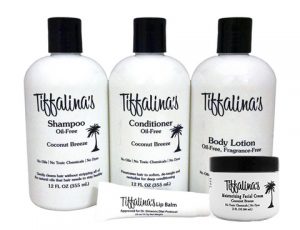 We do everything in our power to give you ONLY the most HCG Diet approved hygiene products, for that reason we carry the Tiffalina's HCG Approved Product Line.
It's crazy how one bad ingredient in a lotion, soap, deodorant, cream, etc. can slow your weight loss down, cause you to stall, or WORSE, cause you to GAIN.  Most HCG dieters have no idea that ingredients in their cosmetics and personal care items can even negatively affect them. Scary, isn't it?
So, make sure you put the best HCG Diet personal care products in your shopping cart today! Do check back often to see if we have made any wonderful discoveries. Until then, stick with what's on this list of safe hygiene products. It's best not to take any chances while you are making it through the VLCD!
Click here to return to the HCG Phase 2 / HCG VLCD Information Page.