DIY HCG Company Background—About Us
DIY HCG was started by Linda Prinster and Tiffany Prinster in December of 2008 to help people with the HCG Diet who wanted to 'Do It Themselves', rather than getting a full-blown, expensive HCG package at a doctor's office.
Linda was already an owner of another HCG company called "Pounds and Inches Away", which she started in 2007. "Pounds and Inches Away" was a full-service HCG Diet consulting firm, who had thousands of successful HCG clients. Tiffany worked as an HCG consultant for "Pounds and Inches Away" where she gained knowledge and experience with the HCG Diet. Tiffany was actively involved in the HCG Diet forums and noticed the need for homeopathic HCG drops online. So, Linda and Tiffany decided to launch DIYHCG.com as they already had a significant amount of experience in successfully helping others to complete the HCG Diet successfully. Then, Leanne Mennemeier joined the team.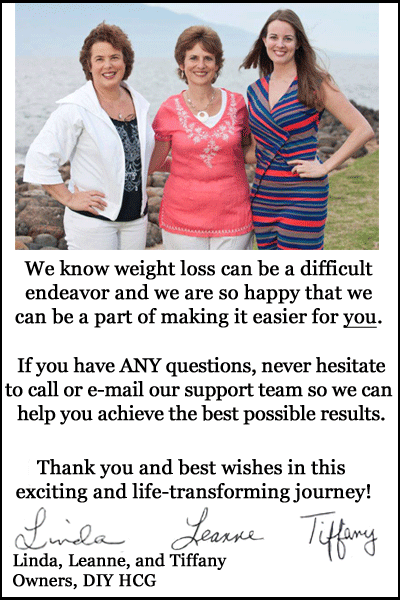 DIY HCG started off as a small, call-to-order HCG website in December of 2014. Then, in February of 2009, DIY HCG moved up to a big, new e-commerce HCG website. At that point, Tiffany was pretty much doing everything involved in the business: taking phone orders, fulfilling online orders, packing all the boxes, driving them to the post office each day, updating the DIY HCG website, answering customer e-mails, answering HCG support calls, and EVERYTHING ELSE.
From there, we grew into the #1 trusted site for the HCG Diet. Since then, we have helped tens of thousands of men and women to lose weight with the HCG Diet averaging 20-30 pounds of weight loss in about a month with the DIY HCG Diet Plan.
We are family owned and operated, and have grown substantially over the last few years in hopes to provide everything anyone could need while doing all phases of the HCG Diet.
We have started creating and manufacturing our own products to help cure common customer complains... such as:
"I don't have time to weigh meat and cut off fat!" Therefore, we started manufacturing lean cuts of meat that are de-fatted and pre-measured into the allowed 100 gram serving size.
"I'm so bored with my meals, what can I do to change things up?" So, we created many different sauces and products that can be added to the generally boring foods, like our pre-made tomato sauces, hot sauce and barbecue sauce that are allowed on the HCG Diet.
"There are no allowable salad dressings at the grocery store." We now have 4 great flavors of calorie-free salad dressings that can be used in any quantity while on the HCG Diet.
"How do I analyze spice/seasoning labels to see if I can use them on the diet? Most contain preservatives". We offer a whole line of diet-safe spices that are sweetened only with all-natural stevia.
"I can't find the right brand of grissini sticks for the HCG Diet, what do I do?" We started carrying a trusted brand of grissini sticks that we get imported from Italy.
Call it crazy, but the HCG Protocol is very strict. As you can see, we have grown from a small call-to-order company with a few products to making our own lines of HCG Diet safe products largely because of customer request and suggestions. As a customer-centered company, we are constantly asking how can we help people be more successful on the HCG Protocol; how can we make it 'easier' for them?
We love and admire the ability to change lives with the HCG Diet! Hence, our line of fresh, healthy foods, sauces, personal care products, dressings and seasonings began to roll out. Considering ourselves 'Dr. Simeon's Purists', our HCG Diet research and development team takes the 'HCG Diet Protocol friendly' very seriously. There are no hidden sugars, oils, or starches in our HCG Diet safe products.  We're constantly working with local manufacturers, designing and tasting products to add flavor and variety to your HCG Diet menu, without sabotaging your weight loss results. Our meat and seafood is prepared locally by sources who supply popular high-end restaurants. Located in the Midwest, shipping is quick and easy to destinations in the continental U.S.
We are dedicated to HCG Dieters everywhere. Trust us to provide products in compliance with the HCG Protocol without sacrificing flavor, variety and convenience. While you may not get many morsels on the VLCD, we want to make sure you enjoy each and every one!
It's good to know who you're working with, right?
If you wish to contact us, please call: 888-389-0626.