Approved Spices for the HCG Diet
Spice Up Your Life on the HCG Diet, but be careful. Some spices will sabotage your results on the HCG Diet.
Most simple, plain spices are fine but most store-bought mixed spices contain oil, sugar, fruit peel, carbs, or preservatives that are not allowed on the HCG Diet.
If your head is still asking "ARE YOU SURE the spices can affect weight loss on the HCG Diet?" Yes, here are some REAL examples of what dieters have experienced...
Mrs. Dash can slow your weight loss to .2 lbs per day.
Taco seasonings making you gain .4 lbs each day you use them
Garlic powder with modified corn starch causing a stall in weight loss for 3 days before you realize that is what is causing the stall!
Believe us!! We want you to have the best weight loss success possible!
PLEASE heed our advice on using only HCG Diet approved spices! It's not only us saying this, this is what Dr. Simeons said in his original manuscript.
In general, fresh, simple herbs and spices are allowed, but it's hard to find spice mixtures that do not hinder weight loss can be very tricky to find.
Here's a HCG Diet approved spice list and some quick tips to help you find safe and allowed seasonings!
Fresh spices, such as: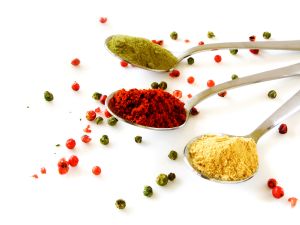 Parsley
Garlic
Ginger
Rosemary
Sage
Thyme
Mint
Basil
Caraway
Fennel
Lemon Balm
Oregano
Marjoram
Saffron
Tarragon
And many, many more.
For mixed spices, you may use Simple Girl Seasonings. Your taste buds will dance for joy!
Buy these pre-made HCG Diet safe seasonings so you don't have to spend time and energy analyzing products. They have been thoroughly analyzed and field tested to work well and allow for maximum weight loss.

Tips for choosing spices for the HCG Diet:

Avoid most store-bought, premixed spices because they usually contain oils, sugars, fruit peels, or other ingredients that are not allowed.
Chemical additions in spices can slow down your weight loss, so look for all-natural seasonings.
A good tip for choosing spices is... If you can't read an ingredient out loud, stay away from it... it is probably NOT safe for the HCG Diet.
Always check your ingredients (NOT just the nutrition facts) for the spices you are considering.
Specifically, check the ingredients list for any oils, fruit juices, starches, vegetables, maltodextrin.
Only use un-sweetened spices or spices sweetened with stevia. Any words ending in -ose, -tol, or -dextrin are NOT allowed in your spices.
Click here to return to the HCG Phase 2 / HCG VLCD Information Page.