Healthy Chemical-Free Sunscreens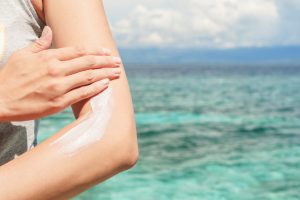 Sunburns are annoying, painful, and potentially dangerous. So, what's the solution? Sunscreen, of course! Still, there's a lot of options when it comes to protecting yourself from the sun's angry rays. Chemical sunscreens contain many worrisome substances like oxybenzone, homosalate, and octinoxate, but chemical-free versions (also known as mineral sunscreens) provide you with the defense you need and none of the risk. Get ready for sunny days with these healthy, chemical-free sunscreens.
MDSolarSciences Mineral Creme Broad Spectrum SPF 50
This high-quality sunblock boosts your sun resistance with both zinc oxide and titanium dioxide. Now these minerals sound scary, but they're seen as healthy, natural alternatives to the questionable compounds in chemical sunscreen, and they're found in all the other mineral sunscreens on this list. These two minerals provide your skin with a wide range of protection against both UVA and UVB rays. Not only does this lotion help out against ultraviolet radiation, it also contains antioxidants. Green tea, cranberry fruit, pomegranate extracts, and vitamin C all give you these benefits. Plus, this product from MDSolarSciences should last eighty minutes in the water.
Neutrogena Sheer Zinc Oxide Dry-Touch Face Sunscreen with Broad Spectrum SPF 50
If you're worried about your sensitive face, fear not! Here's a perfect sunscreen option meant specifically for the skin on your face. Neutrogena gives you a great oil-free, water-resistant choice that also lacks any fragrances, parabens, dyes, or phthalates. If you're afraid of having an allergic reaction, then this sunscreen should look even more appealing. Like all the other sunblocks on this list, this one has been awarded the highest score possible by the Environmental Working Group.
TruKid Sunny Days Sports SPF 30
Concerned that your kid might turn into a lobster as they swim? This TruKid sunscreen will make sure that such a terrifying fate does not befall your child. This is a healthy, chemical-free sunscreen intended for young users, and it's been tested by pediatricians and dermatologists. It's both natural and eczema safe. In addition to all these things, TruKid manufactures within the United States. This eco-friendly choice is a great pick if you've got some little ones you're fretful about.
Babyganics Pure Mineral Sunscreen Stick SPF 50
While all the other products in this list are lotions, this one is packaged in a portable stick format. You don't have to worry about leakage onto your towel or swim suit, and the non-allergenic formula will keep you from having any adverse reactions. Of course, Babyganics also provides you with a solid eighty minutes of water resistance. Take a dive and enjoy the cool waters of the beach (or pool).
Chemical sunscreens can cause potential damage to both your personal health and the health of the environment. They penetrate deep into your skin and contaminate coral reefs. On the other hand, mineral sunblocks create an effective barrier on top of your skin instead of in it. This exposes you to less danger. Avoid chemical options at all costs, and pick up one of these healthy, chemical-free sunscreens instead.