Feature Product: Tender Tips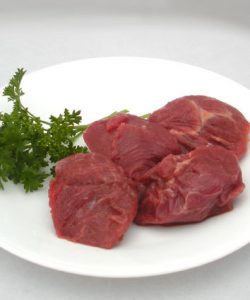 Imagine biting into a succulent, tender piece of meat. Is your mouth watering yet? Better yet, pour on our delicious, guilt-free Carolina Style BBQ Sauce to enhance the juicy flavor. Another option is to sprinkle some Simple Girl Steak Seasoning, Chef's Hot Pepper Blend Seasoning or Sweet & Hot Louisiana Seasoning, on these steaks. These perfectly-sized Tender Tips allow you to make amazing recipes with ease or to enjoy a simple steak. This is prepared meat ready for easy cooking and delivered right to your door. Cut them in chunks and add to your soups or make a chunky chili with our diet safe Chili Tomato Sauce. More of an Italian food fan? Try these tender chunks in a serving of our Tomato Italiano Sauce to create a yummy diet-friendly tomato soup; it'll warm your bones on a cold winter evening. These Perfect Portions Tender Tips are also great for grilling on a kabob and served with your favorite vegetable.
Perfectly portioned Tender Tips are small bite-sized pieces of lean beef cut from the tenderloin end and weigh the required 100 grams to adhere to the specific meat requirements of the diet. It takes only 5-10 minutes to defrost in water once you remove it from the freezer. Sold in packs of 5, the Tender Tips are independently cryo-packed and flash frozen to ensure freshness.
Check out these reviews on our tasty Tender Tips:
Tender & Juicy!
~Posted by Julie J
"These tender tips definitely live up to their name – tender! They are very tender and juicy and taste wonderful with the Carolina BBQ sauce on them. Another delicious flavor option is using the Sweet & Hot Louisiana Seasoning – my favorite spice."
I love Perfect Portions beef proteins!
~Posted by LM
"They are packaged in individual servings so there's no cutting, weighing and trimming off fat. If I forget to thaw one out ahead of time, I just put the package in a bowl of water for about 20 minutes and it's ready to grill. A George Foreman will have it done just the way I like it in a few minutes.  The best thing about Tender Tips is that they are cut from the same part of the beef as Filets. It's because they are in pieces rather than one whole piece that they are named Tender Tips and the price of tips PER SERVING is about $2 less than filets. Just like the filet cut, the Perfect Portions Tender Tips are tender, juicy and delicious!"