The Trouble With Tech: Are We Really More Connected?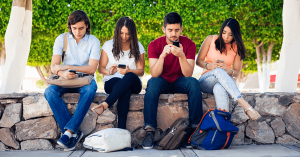 In today's world, new gadgets and technologies are emerging daily and they are promising to make our lives easier and more connected.  But are they really doing that?  Did you know that Steve Jobs didn't let his kids play with the iPad?  In fact, when people asked him how his kids liked the new toy, he said, "They haven't used it. We limit how much technology our kids use at home."
There are several situations that are becoming more and more common every day, such as a toddler playing with his mom's phone while grocery shopping or a table full of adults sitting at a restaurant and they're all looking at their phones instead of holding actual conversations. The follow-up questions we should be asking are "Will toddler growing up in front of screen rather than experiencing the 'real' world effect the social developments skills as they get older?" or "Are online friendships becoming more important than real face-to-face encounters?"
Make it a point this year to have 'tech-free time'. Shut off the TV, close the laptop, silence your cell phone, and turn off the tablet. Try spending time with ones you love without sharing it as a statue update or taking photos to share online. Just enjoy time doing simple things such as playing fetch with the dog, going for a walk, play a board game, read a book alone or out loud, cook or bake something, etc.
Cutting back on technology can improve your life in more ways that you think... not only can it help you connect more with the ones around you, but it can also reduce eye strain, improve your activity level, lower chances of headaches or migraines, reduce stress on your hands and wrists, and developing healthy habits that can generate an overall healthier you.